Live
|
News
|
Fix
|
Team
|
Result
|
Table
|
sceb
|
atkmb
|
cfc
|
mfc
|
fcg
|
krb
|
neu
|
hfc
|
ofc
|
bfc
|
jfc
|
SF-Final
|
Stat
|
ISL 2021-22 ALL RESULT: NORTH EAST UNITED ( BELOW)
MATCH-12: 29/11/2021 : NORTH EAST UNITED FC - (
1-2
) - CHENNAIYIN FC (FT)
CFC
: Lallianzuala Chhangte 41', Aniruddh Thapa 73'
NEU
: V.P. Suhair 48'.
HERO OF THE MATCH
: Lallianzuala Chhangte ( CFC)
CLUB AWARD
: CHENNAIYIN FC.
NEUC
: Subhasish Roy, Provat Lakra, Gurjinder Kumar, Mashoor Shereef, Khassa Camara (C), Federico Gallego, Hernan Santana, Pragyan Gogoi, Suhair Vadakkepeedika, Laldanmawia Ralte, Mathias Coureur.
CCFC
: Vishal Kaith, Reagan Singh, Jerry Lalrinzuala, Narayan Das, Slavko Damjanovic, Lallianzuala Chhangte, Anirudh Thapa (C), Ariel Borysiuk, Mirlan Murzaev, Vlagyimir Koman, Rahim Ali.
REFEREE
: Ashwin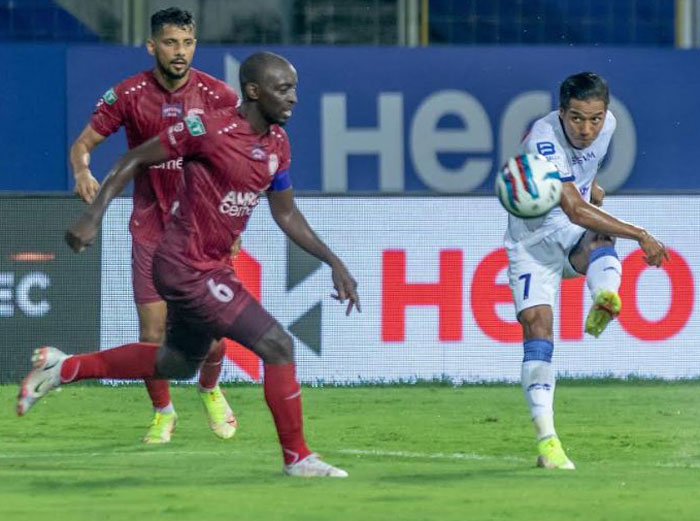 Young Indian talent took centre-stage as Chennaiyin FC rallied to beat NorthEast United FC 2-1 in a 2021-22 Hero Indian Super League (ISL) at the Pandit Jawaharlal Nehru Stadium in Fatorda on Sunday.
Lallianzuala Chhangte (41') broke the deadlock with a powerful shot from a defensive error but VP Suhair (50') made the most of the Chennaiyin goalkeeper being out of position to equalise. Captain Anirudh Thapa (74') sealed the deal with a fine strike.
Federico Gallego's return to the starting XI for the first time this season headlined team news even before the first whistle. Mathias Coureur too came back into Khalid Jamil's team. Meanwhile, Narayan Das had a new role at centre back for Chennaiyin as Jerry Lalrinzuala assumed his position at left back.
Apart from a moment where it seemed Lallianzuala Chhangte had beaten Subhasish Roy Chowdhury's nearside to squeeze a goal, it was all NorthEast in the opening exchanges. Gallego's quality was on display as he peppered the Chennaiyin defence several times. VP Suhair and Laldanmawia Ralte too had a few sniffs in the opposition box to keep the Highlanders on top.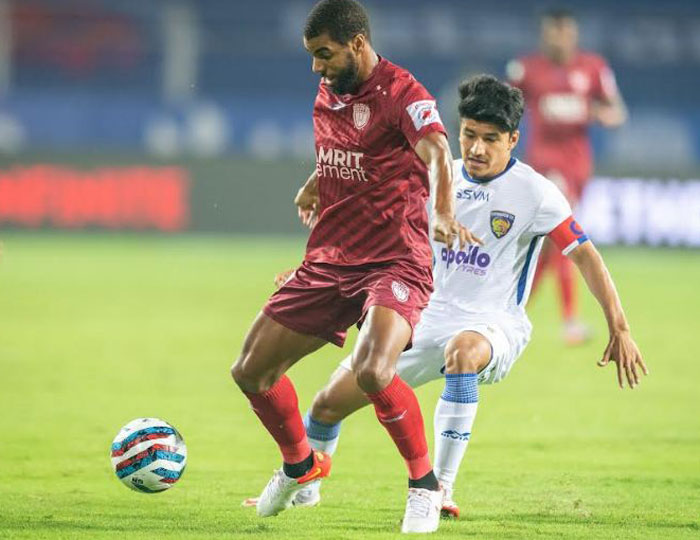 Unfortunately, Gallego could only last 24 minutes as he pulled up injured yet again. NorthEast United, already missing the services of Deshorn Brown in the game, had to put in Pat Flottmann, going in for an added defender.
The game was thrown open with chances at both ends. Suhair's header from a long throw-in was saved by Vishal Kaith and then Hernan Santana's long-ranger went inches above. Chhangte, who had earlier blazed over the bar, made amends before half time. After some exquisite counter-press through the right, Reagan Singh squared the ball into the box. Khassa Camara mistimed his interception and Chhantge pounced onto the ball to slot it home after a deflection off the bar.
Jamil made two changes post the break and results immediately showed. Five minutes in, VP Suhair, relatively unmarked, had no problems in guiding the ball past Vishal Kaith from a long-throw in by Provat Lakra. NorthEast had found the equaliser with more than 40 minutes to go.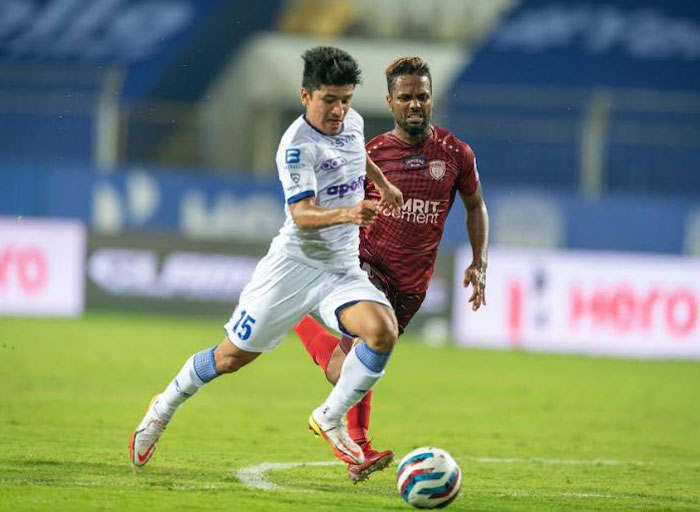 Lalkhawpuimawia shot wide despite having an empty net to aim at. Gurjinder Kumar's long ranger took a deflection off Slavko Damjanovic and ricocheted off the post. With Kaith, yet again out of position as he was for the goal, the Mizoram-born striker failed to hand his team the lead. Post the hour mark, Mirlan Murzaev found the back of the net but Rahim Ali's through ball to the Kyrgyz was deemed offside.
It was then the new captain, Thapa to have his final say in the game. Murzaev laid in the midfielder from a long ball. Thapa sprinted full pace to go past marker Camara and shoot fiercely to restore the lead, crucially closing the game for Chennaiyin FC.
MATCH-7: 25/11/2021 : NORTH EAST UNITED -(
0-0
) - KERALA BLASTERS (90+3' :FT..)
HERO OF THE MATCH
: Hernan Santana ( NORTH EAST UNITED)
CLUB AWARD
: NORTH EAST UNITED AND KERALA BLASTERS.
KBFC
: Albino Gomes, Enes Sipovic, Jessel Carneiro (C), Marko Leskovic, Ayush Adhikari (Lalthathanga Khawlhring), Harmanjot Khabra, Sahal Samad (Nishu Kumar), Adrian Luna (Chencho Gyeltshen), Jeakson Singh, Vincy Barretto (Prasanth Karuthadathkuni), Jorge Diaz (Alvaro Vazquez).
NEUFC
: Subhasish Roy, Patrick Flottmann, Provat Lakra, Gurjinder Kumar (Tondonba Singh), Khassa Camara, Hernan Santana (C), Pragyan Gogoi (Mohamed Irshad), Suhair Vadakkepeedika, Laldanmawia Ralte (Rochharzela), Deshorn Brown (Mathias Coureur) Lalkhawpuimawia (Manvir Singh).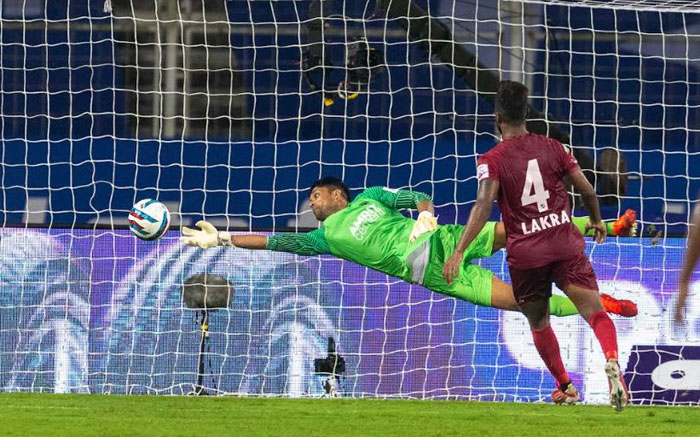 After facing defeat by similar margins in their opening round game, NorthEast United FC and Kerala Blasters FC drew 0-0 as both teams were locked in an intense battle, in a 2021-22 Hero Indian Super League (ISL) match at the Pandit Jawaharlal Nehru Stadium in Fatorda on Thursday.
Kerala would rue a great chance to earn full points, having to blame all but themselves for some shabby finishing, especially with a lacklustre display by NEUFC's forwards.
Ivan Vukomanovic handed young Vincy Barretto an ISL debut on the right wing as Enes Sipovic made his debut in yellow at the heart of defense. NorthEast United, also lining up in a 4-2-3-1 formation dropped goalscorer from the last game, Mathias Coureur and opted for 24-year-old Australian centre-back Patrick Flottmann.
While neither side could carve out clear-cut chances in the opening exchanges, NorthEast did look threatening a couple of times. VP Suhair was the architect of Deshorn Brown and Khassa Camara getting half-chances to convert. The latter did slice a couple over the net from distance. However, the highlight remained a right-footed free-kick from Hernan Santana that went inches above after Enes Sipovic had brought down Deshorn on the run.
At the half-hour mark, Blasters captain Jessel Carneiro swung in a cross that ultimately found Adrian Luna. His chip over the defensive line had Jorge Diaz almost head in the opener of the night. Both teams remained compact in the first period as both sets of strikers found it incredibly tough to get going in the opposition half.
Five minutes into the second half, Sahal Abdul Samad missed a golden opportunity. Vincy blazed through the pitch after winning a second ball. He squared it into the box but with only the keeper to beat, Sahal grazed it wide.
Vincy kept trying hard to help his forwards but playmaker Adrian Luna was not clinical enough in the box. Both managers switched personnel with Alvaro Vazquez and Coureur arriving into the game for Blasters and NorthEast respectively. In a change of formation, Sahal was taken off for wing-back Nishu Kumar, returning after being sidelined for up to ten months through injury for the final quarter hour.
Kerala had their best chance of the night towards the final minutes courtesy a brilliant pass by Nishu but teammate Alvaro Vazquez could not finish a rather easy header thanks to a spectacular save by NEUFC goalkeeper Subhasish Roy Chowdhury. Both teams cancelled each other out, visibly frustrating both Jamil and Vukomanovic in an intense battle of tactics Blasters face arch-rivals Bengaluru next while NorthEast entertain Chennaiyin next week.
20-11-21 : BENGALURU FC - (
4-2
) - NORTH EAST UNITED (FT)
NEU
: Cleiton 14', Coureur 25'
NUFC
: Deshorn Brown 17', Mashoor Shereef 23'(OG), Jayesh Rane 42', Prince Ibara 81'.
HERO OF THE MATCH
: Udanta singh ( BFC)
CLUB AWARD
: Bengaluru FC.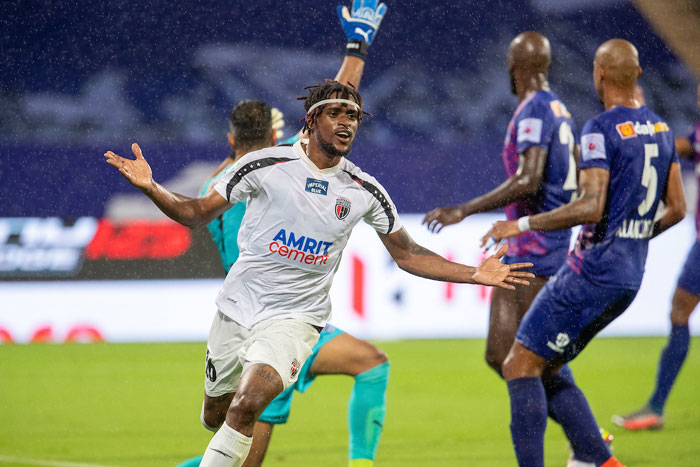 NEUFC
: Subhasish Roy , Provat Lakra, Gurjinder Kumar, Jestin George, Mashoor Shereef, Khassa Camara, Hernan Santana, Suhair Vadakkepeedika, Laldanmawia Ralte, Mathias Coureur, Deshorn Brown.
BFC
: Gurpreet Sandhu , Alan Costa, Ajith Kamaraj, Ashique Kuruniyan, Yrondu Musavu-King, Bruno Silva, Jayesh Rane, Suresh Wangjam, Udanta Singh, Cleiton Silva, Sunil Chhetri .
REFEREE
: RAHUL KUMAR GUPTA
In an entertaining contest that saw six different goalscorers, Bengaluru FC ran out eventual victors, defeating NorthEast United FC 4-2 in the second game of the 2021-22 Hero Indian Super League (ISL) at the Athletic Stadium in Bambolim on Saturday.
Cleiton Silva (14'), Jayesh Rane (42') and Prince Ibarra (81') provided the fireworks for Bengaluru FC, while Deshorn Brown (17'), Mathias Coureur (25') scored for the Highlanders along with Mashoor Shereef (22' OG) who unfortunately found his own net.
Former Bengaluru man Deshorn Brown almost provided the opener of the night with an acrobatic attempt in the very first minute. NorthEast United looked dominant in the opening exchanges but the game opened up right around the quarter-hour mark.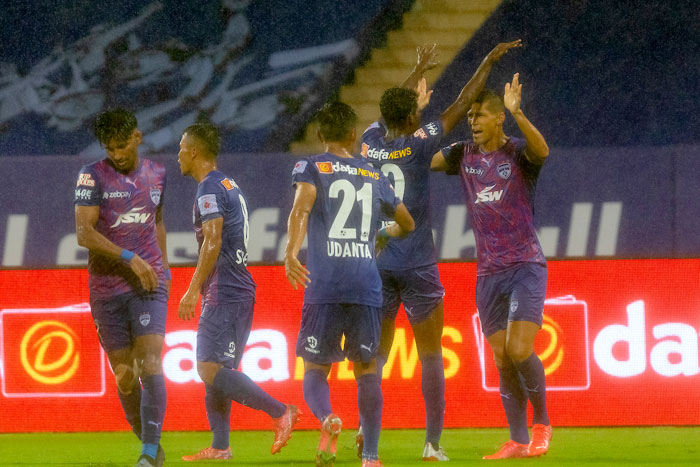 An entertaining eleven minutes ensued with four goals, two at either end. First up, Brazilian target man Silva made most of Udanta Singh's build-up play, to leave NorthEast defenders high and dry to complete a fine goal. Three minutes later, Deshorn Brown was to have his say in the game. VP Suhair on the left flank, brilliantly found Brown who with a controlled first touch, smashed into the net to draw level.
NorthEast then shot themselves in the foot. Ashique Kuruniyan lobbed the ball in from range, it rebounded off the crossbar and came back into play. Mashoor Shereef, instead of clearing it, scored an own goal. On the other end, new signing Mathias Coureur made amends for his teammate. Suhair yet again set up the move for Coureur to slot it in on the second time of asking, equalizing for the second time in the night.
Sunil Chhetri, desperate to get into the act squandered a chance but it was Jayesh Rane right before half-time who drove down a left-footer to bring up the fifth goal of the game. NorthEast looked visibly second-best post the break. Chhetri missed an easy chance before Sehnaj Singh was brought in by Khalid Jamil, who looked to the bench for experience.
The game descended into a tactical battle with multiple substitutions from both sides hampering the flow of the game late on. There was one bit left, where Alan Costa's long ball found Prince Ibarra, who cut in and finished with style. Bengaluru managed to hold on to the score and register all three points.