----- REFRESH PAGE
||--||
Click here for Player Transfer News
PHURBA LACHENPA SIGNS A DEAL WITH MUMBAI CITY FC
23.10.20:
Mumbai City FC have today announced the signing of young goalkeeper Phurba Lachenpa. The contract will end on 2024.
A graduate of the Shillong Lajong FC Academy, Lachenpa signed a professional contract with the Meghalaya-based club in 2015. The Sikkemese shot-stopper made 24 appearances during his four seasons there, before signing for fellow I-League club Real Kashmir in 2019.
A regular starter in Real Kashmir's fourth-placed finish last season in the I-League, Lachenpa impressed as he kept 8 clean sheets in 19 appearances across all competitions, conceding only 17 goals in the process. The youngster will join goalkeeper Amrinder Singh in the goalkeeping contingent at Mumbai City.
BRAZILIAN DEFENFER JOINED TRAU FC
23.10.20:
I League club TRAU FC announced the signing of Helder Lobato for the forth coming season. The Brazilian Central defender took the transfer from Al Shabab Club, Kuwait. The Brazalian defender joined Sao Raimundo Esporte Clube of Brazil in the year 2008 and played for various clubs like Sao Paulo, Al Wehdat, Borneo and Burgan before he joined Al Shabab Club, Kuwait.

TRAU FC EXTENDS CONTRACT OF 4 PLAYERS
22.10.20:
TRAU FC extends contract of 4 players - Soraisham Dinesh Singh, Meitalkeishangbam Roger, Abhishek Das and Shahbaz Khan ahead of the upcoming season.
22 year old defender Soraisham Dinesh Singh played 7 matches for TRAU FC in I-League last season and made 1 assists also. 20 year old midfielder Meitalkeishangbam Roger played 3 matches for TRAU FC.
26 year old right back Abhishek Das joined TRAU FC last season and played 8 matches for them in I-League. Abhishek started his professional career from East Bengal, later played various top clubs like Mohun Bagan, Chennaiyin FC, Chennai City FC, Gokulam Kerala FC.
22 year old defender Shahbaz Khan played 4 matches for TRAU FC in last season's I-League.
AIFF CONGRATULATE MOHAMMEDAN SPORTING FOR QUALIFYING IN I LEAGUE
22.10.20:
The Executive Committee of AIFF in a video conference today headed by Mr Praful Patel announced the venews of ISL and I League and congratulate the I League qualifiers. The conference was attended by Senior Vice President Mr. Subrata Dutta, AIFF General Secretary Mr. Kushal Das, Vice Presidents Mr. Manvendra Singh, Mr. Larsing Ming, Mr. KMI Mather and all other Executive Committee members attended the meeting.Mr. Chirag Tanna, General Manager, FSDL attended the meeting as an invitee. AIFF Technical Director Mr. Isac Doru was also present.
The Executive of AIFF congratulated Mohammedan Sporting for winning the Hero I-League Qualifiers 2020 and earning a ticket to the Hero I-League 2020-21.
The Committee also felt that under current circumstances hosting the Hero Youth Leagues this season won't be possible, and the Hero Youth Leagues and the Academy Accreditation procedure would kick-off once again from next season onwards. League Committee shall consider organising an U-20 League next season so that the boys who would have played U-18 league this year get the opportunity to showcase their performance in the U-20 League.
The President of AIFF in his massage said, "Congratulations for the completion of the Hero I-League Qualifiers. The Hero ISL is slated to kick-off on November 20. The Hero I-League will be hosted in Kolkata, while the Hero ISL will be held in Goa. Both the cities have been chosen as they have multiple match and practice venues."
While discussing regarding I League qualifying matches at Kolkata and Kalyani, I League CEO Sunanda Dhar said, "There were quite a few lessons for us during the Hero I-League Qualifiers which will help us immensely when we go on to conduct the Hero I-League 2020-21 later in the season. I need to thank the IFA, Mr. Joydeep Mukherjee (Secretary, IFA), Mr. Subrata Dutta and the Government of West Bengal for their stupendous support."

AIFF Executive Committee also approved the distribution of the COVID Solidarity Fund to the State FAs to support their activities.


AHMED JAHOUH JOINED MUMBAI CITY FC

22.10.20: Mumbai City have today confirmed the signing of midfielder Ahmed Jahouh. The 32-year-old Moroccan joins the Club after putting pen to paper on a two-year contract.

A native of Al Araoui in Morocco, Jahouh started his career with Ittihad Khemisset before moving to Moghreb Tétouan in 2010. Jahouh plied his trade at Moghreb for five seasons winning two league titles in the process, and featured in his last season at the club under then coach Sergio Lobera and with teammate Mourtada Fall. Jahouh would go on to feature for Raja Casablanca and FUS Rabat, both in Morocco.

In 2017, Jahouh reunited with Lobera in India at FC Goa. The Moroccan was pivotal to Sergio Lobera's set up and became a key fixture for the Goan side over the next three seasons, making 56 league appearances and winning the 2019/20 ISL League Shield and the 2019 Super Cup.



ISL 2020-21 TO START FROM 20TH NOVEMBER AT GOA

21.20.2020 : It's hardly a less than a month now. The top tier league of the country will going to be flagged off on and from the 20th of November at Goa under the strict health protocol due to Covid 19 pandemic. The eleven participating teams are at Goa preparing for the tournament will fight for a spot in the AFC Champions League .

ELEVEN PARTICIPATING TEAMS:
ATK MOHUN BAGAN, BENGALURU FC, KERALA BLASTERS FC, CHENNAIYIN FC, FC GOA, MUMBAI CITY FC, NORTH EAST UNITED FC, ODISHA FC, HYDERABAD FC, JAMSHEDPUR FC, SC EAST BENGAL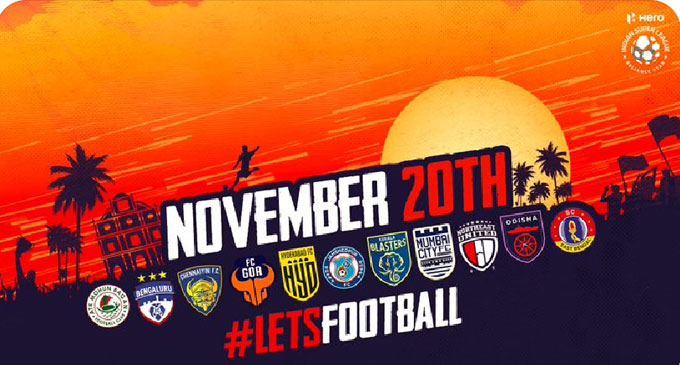 FSDL has changed the format of the tournament in the seventh edition of the tournament. All the matches will be played at three different stadiums of Goa instead of different cities of the country. A limited number of people will be allowed to enter the stadium apart from the participating teams, coaching teams, medical units and officials. No spectators are allowed to enter the stadium . Star Sports have made elaborate arrangements to telecast the matches live in India as well as in abroad from 7.30 PM IST.

The attraction of the tournament has changed radically after the inclusion of the top two teams of the country, Mohun Bagan and East Bengal. Mohun Bagan merged up with ATK forming a new club ATK Mohun Bagan, while East Bengal tied up with an investor Sree Cements Private Limited forming SC East Bengal.