Live
|
News
|
Fix
|
Team
|
Result
|
Table
|
sceb
|
atkmb
|
cfc
|
mfc
|
fcg
|
krb
|
neu
|
hfc
|
ofc
|
bfc
|
jfc
|
SF-Final
|
Stat
|
ISL 2021-22 ALL RESULT: BENGALURU FC ( BELOW)
MATCH-11: 28/11/2021 : BENGALURU FC - (
1-1
) - KERALA BLASTERS (FT)
BFC
: Ashique Kuruniyan 84'
KBFC
: Ashique Kuruniyan 88'(OG)
HERO OF THE MATCH
: Harmanjot Khabra ( KERALA BLASTERS )
CLUB AWARD
: BENGALURU FC and KERALA BLASTERS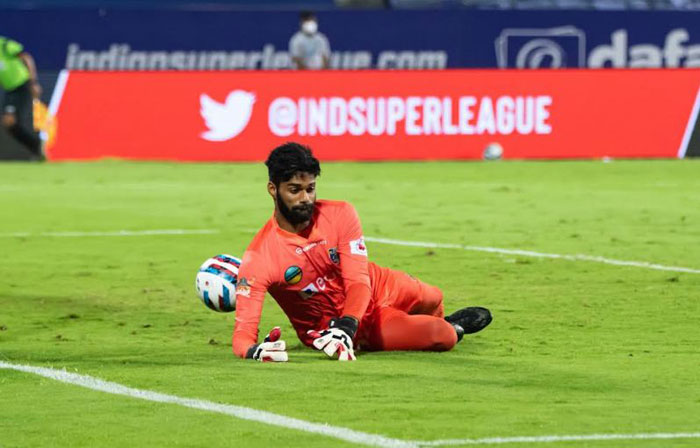 BFC
: Gurpreet Sandhu, Pratik Chowdhary, Alan Costa, Ashique Kuruniyan, Roshan Naorem, Bruno Silva, Suresh Wangjam, Iman Basafa, Udanta Singh, Cleiton Silva and Sunil Chhetri (C).
KBFC
: Albino Gomes, Enes Sipovic, Jessel Carneiro (C), Marko Leskovic, Lalthathanga Khawlhring, Harmanjot Khabra, Sahal Samad, Adrian Luna, Jeakson Singh, Vincy Barretto and Alvaro Vazquez.
REFEREE
: Pranjal Banerjee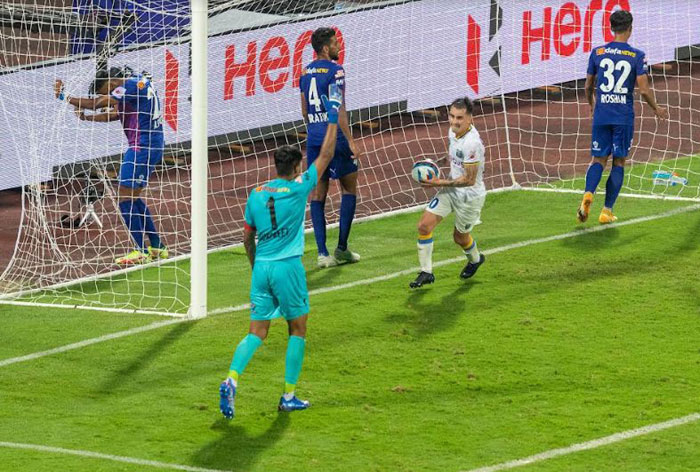 In a matter of four minutes, Ashique Kuruniyan turned hero to villain as his goals at either end cancelled out for Bengaluru FC and Kerala Blasters FC to share the spoils in a 1-1 draw in a 2021-22 Hero Indian Super League (ISL) third-round game at the Athletic Stadium in Bambolim on Sunday.
Ashique Kuruniyan (84' and 88' OG) first scored for the Blues and then for the opposition. Bengaluru now have 4 points from 3 games but Blasters still remain winless.
Marco Pezzauioli, on the back of the 3-1 defeat at the hands of Odisha, brought in more creativity with Iman Basafa slotting into midfield. Cleiton Silva returned to lead the line. Blasters too had a couple of changes. Puitea featured alongside Jeakson Singh in a double-pivot role as Alvaro Vazquez replaced Jorge Pereyra Diaz.
Bengaluru remained on top with superior ball possession early on but Blasters had Jeakson Singh almost create a favourable chance under two minutes itself. Ashique Kuruniyan's pace kept former teammate Harmanjot Singh Khabra on check with Iman Basafa looking settled in dictating play from the centre of the pitch.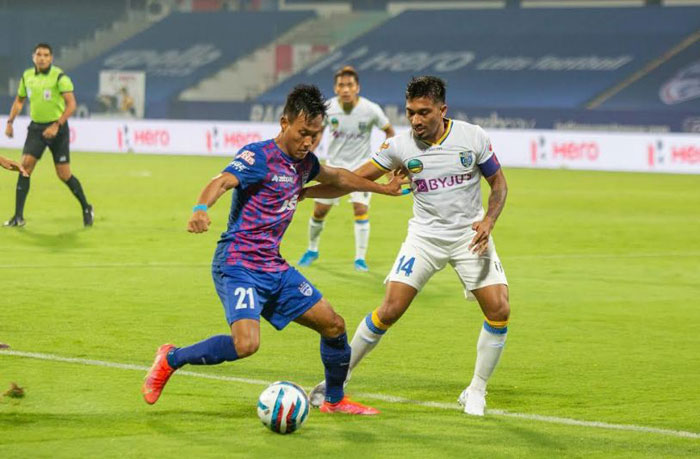 However, it was a battle of tactics with Indian youngsters making for good viewing. Vincy Barretto and Ashique were involved in an intense tussle on the wings. Bengaluru deployed the idea of stretching the game wide with Sunil Chhetri repeatedly threading the ball onto the flanks for Ashique and Udanta bombing down the channels.
On the other side, Sahal Abdul Samad showcased some slick moves to beat Roshan Singh and cross inside the box. But, Ashique was equally adept at defensive duties, clearing off the danger, in the 23rd minute. There were some clumsy attempts from both sides but neither was able to trouble the opposition goalkeeper too much in the first half.
It was a frantic ten minutes after the change of ends. Cleiton and Udanta combined well to keep Blasters anxious. First the Brazilian shot wide and then lobbed the ball high over the bar. Albino Gomes in fairness, had it covered. Roles were reversed as Cleiton then found Udanta who blazed the ball wide. Surprisingly, Sunil Chhetri was substituted off at the hour mark, without having any substantial impact on proceedings.
The last ten minutes defined the script of the game. Ashqiue found the ball on the edge of the box. After toying with Khabra, he shot on the angle and a spill from Albino Gomes saw the ball go into the net. Moments later, it was anti-climax. A cross from the left saw Leskovic pip goalwards but Ashique, instead of clearing, shot right into his own net.
MATCH-6 : 24/11/2021 : ODISHA FC -(
3-1
) - BENGALURU FC (90+5 - FT)
OFC
: Javier Hernandez 3', 50', Aridai Gabriela 90+4'
BFC
; Allan Costa 20'.
HERO Of THE MATCH
: Javier Hernandez ( OFC)
CLUB AWARD
: Odisha FC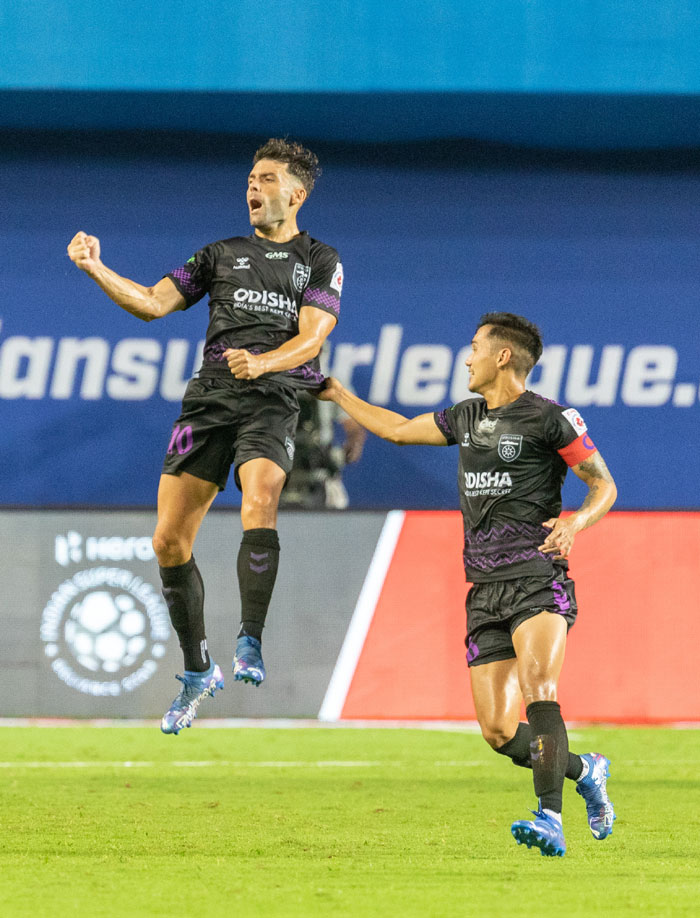 OFC
: Kamaljit Singh, Victor Mongil, Hector Ramirez, Lalruatthara, Hendry Antonay (Lalhrezuala Sailung), Vinit Rai (C), Javier Hernandez (Aridai Suarez), Thoiba Singh (Isak Vanlalruatfela), Jerry Mawihmingthanga, Jonathas Cristian (Liridon Krasniqi) Nandhakumar Sekar (Isaac Chhakchhuak).
BFC
: Gurpreet Sandhu, Ashique Kuruniyan (Sarthak Golui), Alan Costa, Roshan Naorem, Yrondu Musavu-King (Pratik Chowdhary), Jayesh Rane (Danish Farooq), Bruno Silva (Iman Basafa), Suresh Wangjam, Udanta Singh (Cleiton Silva), Prince Ibara and Sunil Chhetri (C).
REFEREE
: R VENKATESH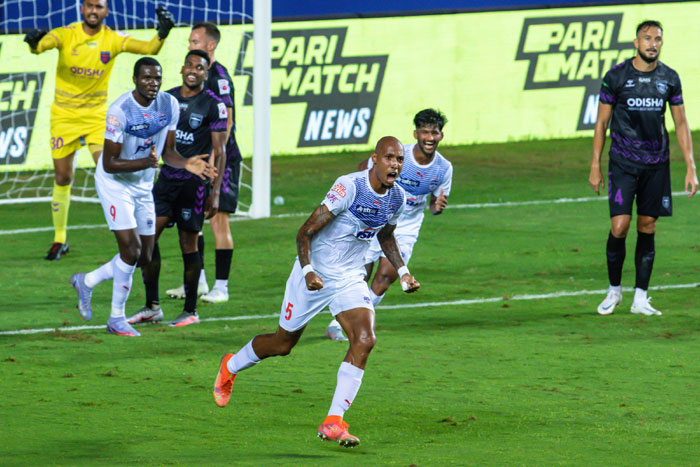 It was Javi Hernandez (3', 51') who led the charge for Odisha with a brace. While he rode some luck for his first goal, the second was nothing short of breathtaking from just outside the box. Alan Costa (21') scored one for Bengaluru as Sunil Chhetri failed to convert a penalty kick. Aridai Suarez (90 + 4') sealed the deal for Odisha with a sublime goal adding more sheen to the win.
Bengaluru left Cleiton Silva on the bench while young Roshan Singh was given a run out at right back. Odisha lined up in a 4-3-3 formation with Kiko Ramirez's Spanish influence evident.
It was a horrible start for India goalkeeper Gurpreet Singh Sandhu, who ventured out of his box in an attempt to clear a long punt from his counterpart Kamaljit Singh. A comedy of errors ensued as his mistimed clearance fell right for Javi Hernandez who lobbed the ball over the keeper and defenders into the net for Odisha to draw first blood.
Shell-shocked Bengaluru was still picking up the pieces after the opener when Jonathas, Odisha's high-profile signing in the summer found Nandhakumar Sekar with a one-two but the latter squandered the opportunity with a tame shot in the 12th minute.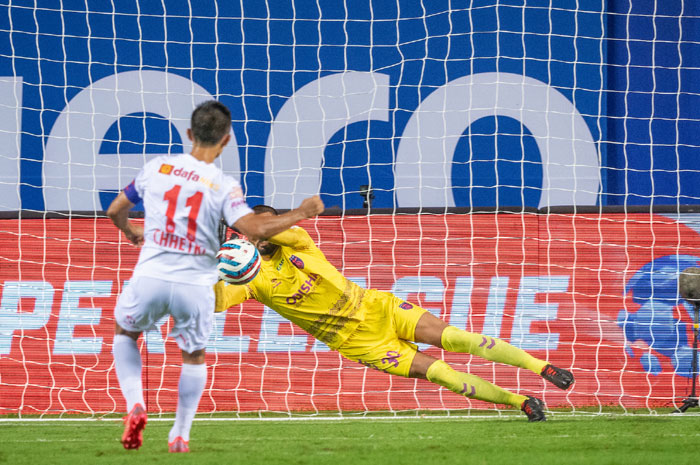 Odisha captain Hector Rodas had nodded the ball out for a corner kick which Roshan swung in from his left foot. Brazilian defender Alan Costa made use of his towering physique to rise the highest and head the ball into the net for the equaliser.
The former champions looked comfortable after their goal as the Odisha defence, led by Rodas was tested on multiple occasions before half time but remained unscathed. Five minutes into the second half, Jonathas was brought down by Udanta Singh on the edge of the box. Javi's left foot freekick left the entire Bengaluru wall for dead, as the Bhubaneswar side restored the lead.
Cleiton Silva was called upon and won a penalty at the hour mark. Sunil Chhetri stepped up only to be denied by the keeper but the follow-through, which was netted by Cleiton, was disallowed as he encroached the box before the shot was taken.
Bengaluru kept on pressing for an equaliser but that was not to be. Striker Prince Ibarra sliced a cross from Alan Costa over the bar as Sunil Chhetri struggled to mark his presence in the Odisha box. It was then Spanish Aridai Suarez who piled on more misery on the Blues in the final minutes of the match with clinical strides and a deft touch to find the back of the net to seal the match for Odisha FC.
Odisha, who finished bottom last season start their campaign with an encouraging victory while Bengaluru, who have 3 points from two games, would like to go to the drawing board and focus on their defense.
MATCH-2: 20-11-21 : BENGALURU FC - (
4-2
) - NORTH EAST UNITED (FT)
NEU
: Cleiton 14', Coureur 25'
NUFC
: Deshorn Brown 17', Mashoor Shereef 23'(OG), Jayesh Rane 42', Prince Ibara 81'.
HERO OF THE MATCH
: Udanta singh ( BFC)
CLUB AWARD
: Bengaluru FC.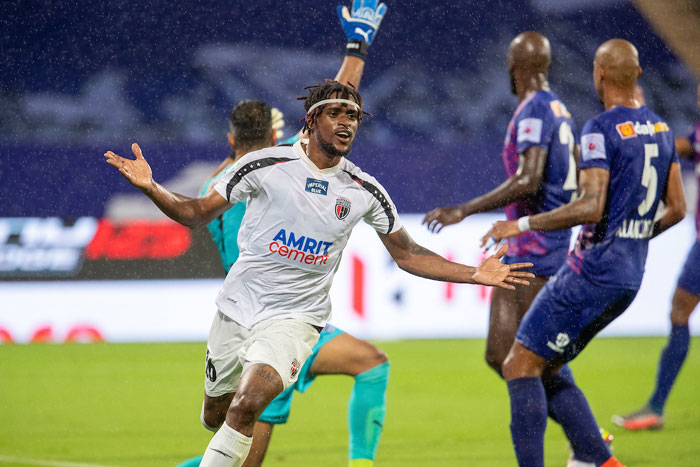 NEUFC
: Subhasish Roy , Provat Lakra, Gurjinder Kumar, Jestin George, Mashoor Shereef, Khassa Camara, Hernan Santana, Suhair Vadakkepeedika, Laldanmawia Ralte, Mathias Coureur, Deshorn Brown.
BFC
: Gurpreet Sandhu , Alan Costa, Ajith Kamaraj, Ashique Kuruniyan, Yrondu Musavu-King, Bruno Silva, Jayesh Rane, Suresh Wangjam, Udanta Singh, Cleiton Silva, Sunil Chhetri .
REFEREE
: RAHUL KUMAR GUPTA
In an entertaining contest that saw six different goalscorers, Bengaluru FC ran out eventual victors, defeating NorthEast United FC 4-2 in the second game of the 2021-22 Hero Indian Super League (ISL) at the Athletic Stadium in Bambolim on Saturday.
Cleiton Silva (14'), Jayesh Rane (42') and Prince Ibarra (81') provided the fireworks for Bengaluru FC, while Deshorn Brown (17'), Mathias Coureur (25') scored for the Highlanders along with Mashoor Shereef (22' OG) who unfortunately found his own net.
Former Bengaluru man Deshorn Brown almost provided the opener of the night with an acrobatic attempt in the very first minute. NorthEast United looked dominant in the opening exchanges but the game opened up right around the quarter-hour mark.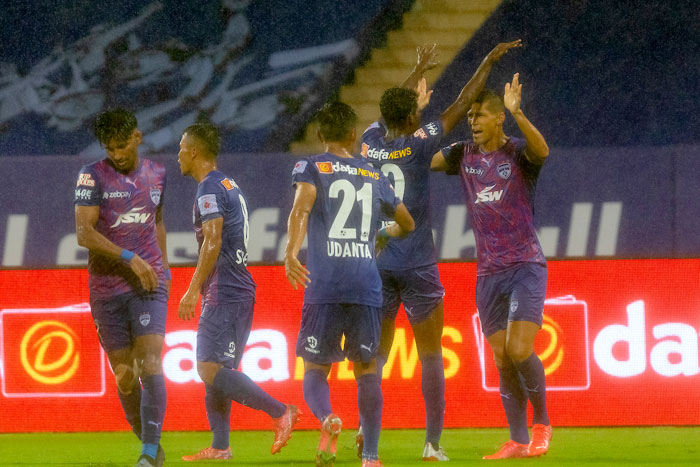 An entertaining eleven minutes ensued with four goals, two at either end. First up, Brazilian target man Silva made most of Udanta Singh's build-up play, to leave NorthEast defenders high and dry to complete a fine goal. Three minutes later, Deshorn Brown was to have his say in the game. VP Suhair on the left flank, brilliantly found Brown who with a controlled first touch, smashed into the net to draw level.
NorthEast then shot themselves in the foot. Ashique Kuruniyan lobbed the ball in from range, it rebounded off the crossbar and came back into play. Mashoor Shereef, instead of clearing it, scored an own goal. On the other end, new signing Mathias Coureur made amends for his teammate. Suhair yet again set up the move for Coureur to slot it in on the second time of asking, equalizing for the second time in the night.
Sunil Chhetri, desperate to get into the act squandered a chance but it was Jayesh Rane right before half-time who drove down a left-footer to bring up the fifth goal of the game. NorthEast looked visibly second-best post the break. Chhetri missed an easy chance before Sehnaj Singh was brought in by Khalid Jamil, who looked to the bench for experience.
The game descended into a tactical battle with multiple substitutions from both sides hampering the flow of the game late on. There was one bit left, where Alan Costa's long ball found Prince Ibarra, who cut in and finished with style. Bengaluru managed to hold on to the score and register all three points.