Live
|
JAN
|
FEB
|
MAR
|
APR
|
MAY
|
JUNE
|
JULY
|
AUG
|
SEPT
|
OCT
|
NOV
|
DEC
|
INDIAN FOOTBALL NEWS (APRIL - 2022)
Kolhapur Maharashtra based Gadhinglaj United Football Association completed the 22th edition of Dr. Ghali school football tournament
28/02/2022
: Gadhinglaj United Football Association completed the 22th edition of Dr. Ghali school league school football tournament successfully. A Total of 20 teams & 400 players participated in the Tournament. Total 46 matches held in both categories of u14 and u-17 respectively. All the Matches played on Saturday and Sunday. In U-14 Group Gargoti's Shukumar Bhavan School & in U-17 Group Sadhana High School emerged as the champions.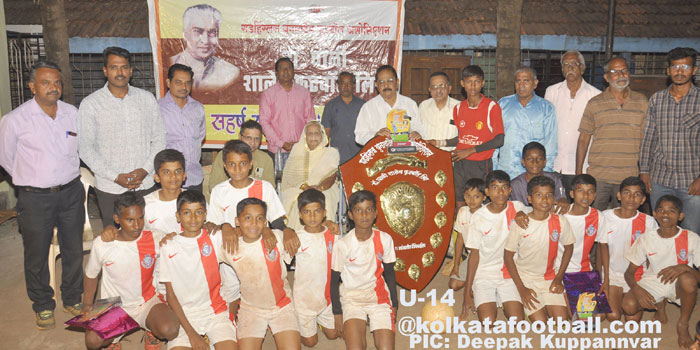 In the final of the U-17 group Sadhana High school defeated Kedari Redekar Public school in tie breaker by 2-0. In the semi final, Sadhana beat Jagruti High school 2-0 & Kedari Redekar Public school beat New Horizon school by 1-0.
In U-14 finale Gargotie's Shau Kumar bhavan beat Shivraj School by 1-0. In the semi final Gargoti beat Sadhana High School by 1-0 & Shivraj beat Shivaji Vidyalaya 1-0. After the final match the prize distribution ceremony was held.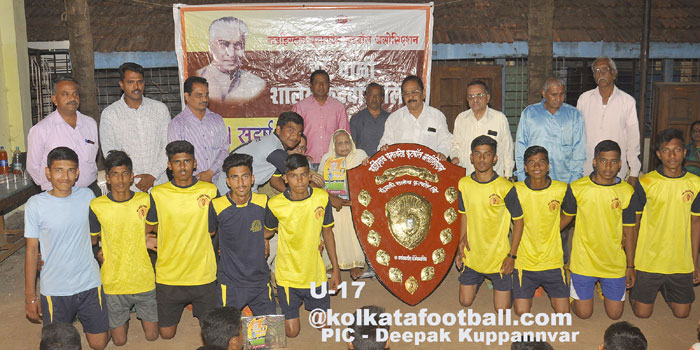 u-14 Group: Man of the Tournament - Om Chougle (Gargoti Shukumar Bhavan School)
u-17 Group: Man of the Tournament - Parth Yadev (Sadhana High School)
BEST PLAYER : GK Rahul Powar, Sammer Chougle, Sameer Maner (Shivaji Vidyalaya), Rohit Pawar (Sadhana High School), Vidydhar Dhabale (SAI), Vallabh Tonage ( Horizon HS), Sourbh Mohite ( Redekar School)
Tournament Organizer & club secretary Deepak Kuppannvar told that "in prize distribution ceremony Vidya Prasrak Mondal President Mrs. Ratnamla Ghali, Vice President Arvind Kitturkar, Secretary Ad. B.G. Bhosaki Sampat Savant, Mahesh Ghali, Tournament Co coordinator Hullappa Survanshi were present. Bupendre Koli expressed vote of thanks. For this tournament Omkar Sutar, Aniket Kole, Abhishek Powar, Prasad Powar worked as Match officials.
CLASSIC INDIAN FOOTBALLER SUROJIT SENGUPTA NO MORE
17/02/2022
: Former India midfielder and East Bengal legend Surajit Sengupta ( Date of Birth - 30th August 1951) died at a city hospital on Thursday following his prolonged battle with COVID-19. He was 71.
He was part of the golden era in East Bengal when they won six successive Calcutta Football League titles (1970-1976) and the IFA Shield six times and the Durand Cup thrice.
In his playing career he played both East Bengal and Mohun Bagan Club. He was the best winger in his time. He started his big club carrer from Mohun Bagan in the year 1973 signed from Kiddepur Club. He then signed for East Bengal in 1974. He scored first goalfor East Bengal in 1975 5-0 win over Mohun Bagan. He was the captain of East Bengal in the year 1978-79 season where he won the Durand Cup, IFA Shield, Federation Cup and the Bordoloi Trophy beating Port Authority Bangkok 4-2, Sengupta scoring twice in the final.
As a player of East Bengal he won the Kolkata league and IFA Shield double thrice (1974, 75, 76), Rovers Cup (1975) and the Darjeeling Gold Cup (1976). Sengupta also won the IFA Kolkata Football League and IFA Shield double thrice (1974, 75, 76), Rovers Cup (1975) and the Darjeeling Gold Cup (1976). East Bengal gave Sengupta their lifetime achievement award in 2018. He also represented India in the 1974 and 1978 Asian Games. He scored two goals in the 1978 Asian Games against Bangladesh and Kuwait. His India debut came in the 1974 Merdeka Cup. With East Bengal He cored 92 club Goals.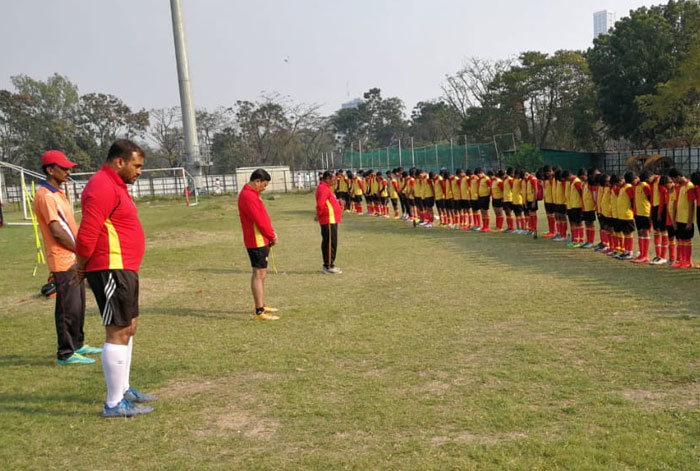 With Mohun Bagan, he won the the IFA Kolkata Football League (1983), Federation Cup in 1981 and 1982, Sait Nagjee Gold Cup (1981) and the Darjeeling Gold Cup (1982). He scored 54 Club Goals for Mohun Bagan. Surojit Sengupta represented Bengal for Santosh Trophy for several times (1975-78).
He signed for Mohammedan Sporting in 1980 and later returned to Mohun Bagan towards the end of his career. In Mohun Bagan he won Sikkim Gold Cup, DCM Trophy and Rovers Cup (joint-winners with East Bengal).He scored 1 goal for Club in his career.
East Bengal gave Sengupta their lifetime achievement award in 2018.
Manchester United's Indian Fans to decide #ILOVEUNITED's next destination
08/02/2022
: Manchester United's popular fan event, #ILOVEUNITED returns for its seventh season, and will be putting the choice of future event destinations in the hands of the fans. The continuing restrictions on international travel means the latest edition of the event, dedicated to serving and celebrating the club's passionate fanbase in India, will take the form of an interactive virtual experience.
And, as part of the 90-minute pre-match show ahead of the key Premier League meeting with Leeds United on Sunday 20 February, fans will be given the opportunity to vote on which city should host the event next time it is staged on the ground in India.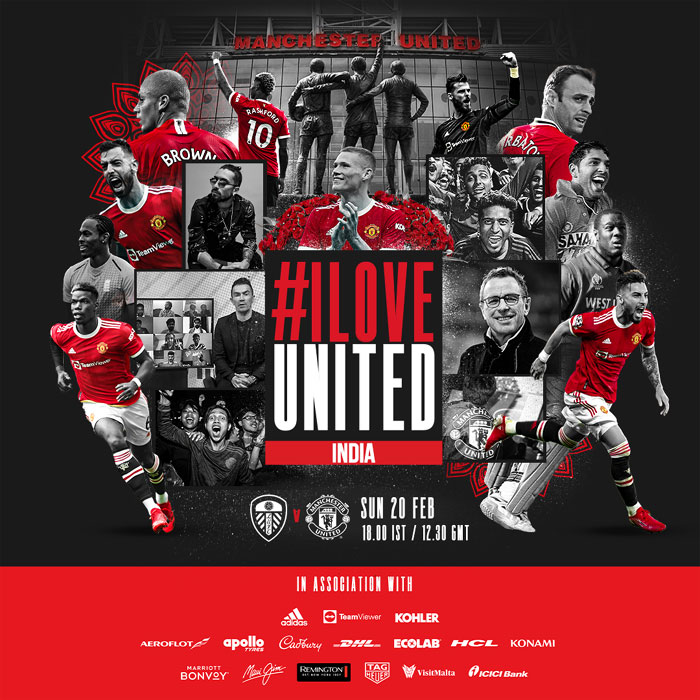 Six fans from across India will make the case for their city as representatives in the event's first ever 'Fan Panel', assisted by United's principal shirt partner TeamViewer, and the audience will be invited to vote for their favourite in the club's official app.
The cities competing to host the next event are Kolkata, New Delhi, Mumbai, Hyderabad, Chennai and Bangalore.
Fans all over the world will be able to enjoy the show - as it will be streamed worldwide across Manchester United's web, app and MUTV channels, Facebook and YouTube. The latest edition will include bespoke local content aimed at the club's fans in India with exclusive behind-the-scenes access and insight into the first team – as well as special appearances from some familiar faces. Designed for a digital audience, fans will be empowered to interact, ask questions and engage in competitions to win a host of exclusive prizes.