LIVE
|
GROUP/TEAM
|
FIXTURE
|
RESULT
|
INDIA
|
TABLE
|
FINAL ROUND
|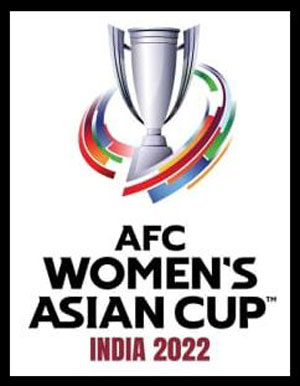 AFC WOMEN ASIAN CUP - 2022 ( INDIA TEAM SQUAD ANNOUNCE)
11/01/22
: Thomas Dennerby announces squad of 23 for the AFC Women's Asian Cup India 2022. Indian Women's Team head coach Thomas Dennerby has named the list of final 23 registered players for the forthcoming AFC Women's Asian Cup which is set to take place in Mumbai, Navi Mumbai, and Pune, from January 20 onwards.
The players and support staff, who have already been camping in Kochi, Kerala since the team's return from Brazil, will fly out to Mumbai on Thursday, January 13, 2022.
India have been drawn against IR Iran (January 20), Chinese Taipei (January 23) and China PR (January 26) in Group A of the competition that consists of 12 teams.
GO BELOW FOr TEAM SQUAD
With as many as 15 players under the age of 25 in the relatively young squad, Dennerby believes that it would "the youngsters and the experienced bunch can help each other out, both on and off the pitch."
The final list of 23 registered players as follows (jersey numbers in brackets):
GOALKEEPERS
: Aditi Chauhan (1), Maibam Linthoingambi Devi (23), Sowmiya Narayanasamy (19).
DEFENDERS
: Dalima Chhibber (17), Sweety Devi Ngangbam (2), Ritu Rani (21), Loitongbam Ashalata Devi (4), Manisa Panna (3), Hemam Shilky Devi (5), Sanju Yadav (8).
MIDFIELDERS
: Yumnam Kamala Devi (6), Anju Tamang (9), Karthika Angamuthu (20), Nongmeithem Ratanbala Devi (7), Naorem Priyangka Devi (14), Indumathi Kathiresan (12).
FORWARDS
: Manisha Kalyan (16), Grace Dangmei (11), Pyari Xaxa (10), Renu (15), Sumati Kumari (22), Sandhiya Ranganathan (13), Mariyammal Balamurugan (18).
HEAD COACH
: Thomas Dennerby.

AFC WOMEN ASIAN CUP - 2022 ( INDIA)
10/01/22
: The 2022 AFC Women's Asian Cup will be the 20th edition of the AFC Women's Asian Cup, the quadrennial international football tournament in Asia competed by the women's national teams in the Asian Football Confederation (AFC). India was recommended as the host of the tournament by AFC Women's Football Committee and selected as the host in June 2020. It will be the second time that the country hosts the competition, the first being in 1979.
For the first time in the competition, the final tournament was expanded from eight teams to twelve. It will serve as the final stage of Asian qualification for the 2023 FIFA Women's World Cup in Australia and New Zealand (Regulations Article 4.6), in which Australia already qualified automatically as a co-host. Five teams will qualify directly for the World Cup via the knockout stage (including play-offs for fifth place or possibly sixth place), and two more teams will advance to the inter-confederation play-offs.

GROUP
: Japan are the defending champions.
GROUP - A
: INDIA - CHINA PR - CHINESE TAIPAI - IRAN
GROUP - B
: AUSTRALIA - INDONESIA - THAILAND - PHILIPPINES
GROUP - C
: JAPAN - MYANMAR - VIETNAM - SOUTH KOREA
VENUES
:
The venues for the 2022 AFC Women's Asian Cup are located across three cities in India and matches will be played in three stadiums like Mumbai Football Arena, DY Patil Stadium - Mumbai and Shree Shiv Chhatrapati Sports Complex of Pune. All matches will be played behind closed doors as a precaution due to the COVID-19 pandemic.
PAST WINNERS and RUNNERS TEAMS : SOURCE: WIKIPEDIA