LIVE
|
GROUP-D FIXTURE
|
GROUP-D RESULT
|
GROUP-D TABLE
|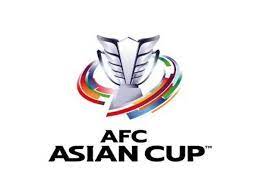 AFC ASIAN CUP QUALIFIER 2023 ( GROUP-D : KOLKATA ) ALL RESULT
AFC ASIAN CUP 2023 QLF (GROUP-D): KOLKATA
MATCH - 6
14.06.2022 : INDIA
4-0
HONG KONG (YBK- FT..)
IND:
Anwar Ali 1' (56 Sec), Sunil Chhetri 44', Manvir Singh 84', Ishan Pandita 90'+2'
IND:
Gurpreet Singh Sandhu, Roshan Singh, Anwar Ali, Sandesh Jhingan, Akash Mishra, Udanta Singh, Sahal Abdul Samad, Jeakson Singh, Suresh Wangjam, Ashique Kuruniyan, Sunil Chhetri
HK:
Yapp Hung Fai, Law Tsz Chun, Yu Wai Lim, Tse Sean Ka Keung, Huang Yang, Sun Ming Him, Matt Orr, Wong Wai, Fung Hing Wa, Wong Tsz Ho, Ju Yingzhi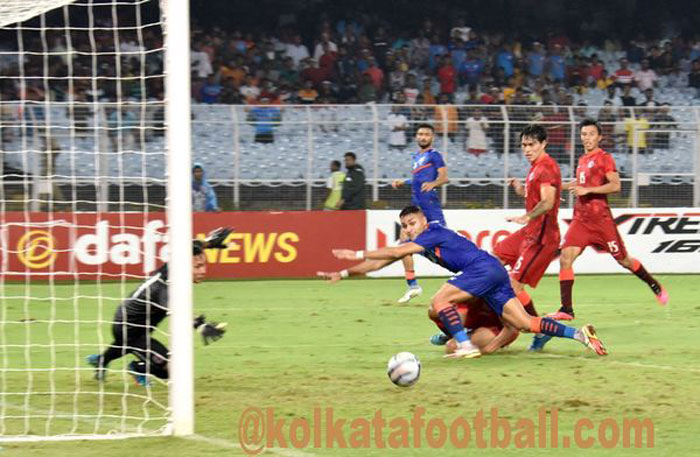 INDIA QUALIFIES FOR AFC ASIAN CUP 2023 BY FINISHING TOP IN THE GROUP TABLE WITH ALL WIN RECORD.
India emerged as the Group champion From Group D and qualified for the AFC Asian Cup 2023 competition. In a rainy evening at Kolkata, India demolished Hong Kong by a margin of 4-0 and qualified for the final rounds of Asian Cup after 1964 and 1980.
An early goal by the central defender Anwar Ali at the 56th second of the match put the home team in the lead. This is India's second earliest goal of the match after I.M.Vijayan, who scored an international goal at the 17th seconds of the match. Sunil Chetri increased his tally to 84 goals when he scored the second goal at the closing stages of the first session.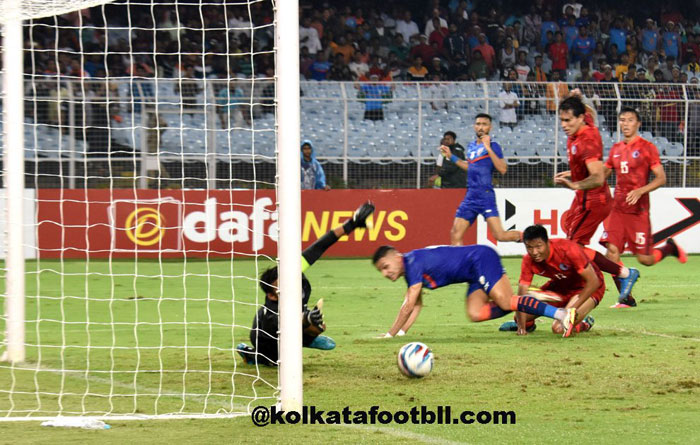 India played a number of passes in the midfield created pressure in Hong Kong's central defense but did not allow Hong Kong to create any positive chances in front of goal except once when a header from Matt Orr sailed over the bar after Gurpreet Singh Sandhu, the goalkeeper of the home team failed to clear a cross pass from the right.
India increased the tally to 4-0 at the second session when two substitute footballers Manvir Singh and Ishan Pandita scored their first goal for the country. The qualifying round matches of Group D proved to impressive for India as they won all they have a all win record in the three matches they played. India scored eight goals and conceded a goal against Afghanistan in their second match.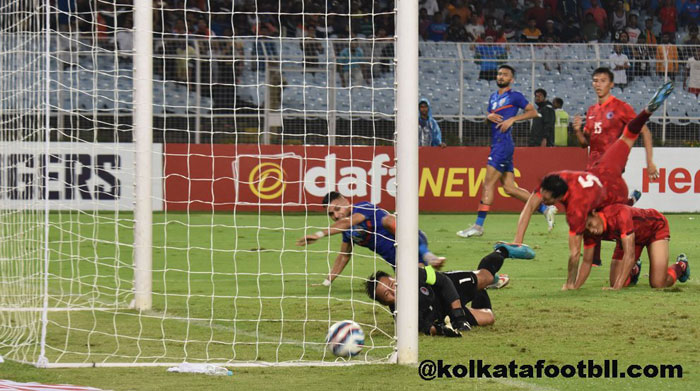 SOME IMPORTANT MOVES OF THE MATCH
SECOND HALF :
Sunil's shot, saved by the keeper in 50th Minute. Sahal's long run and a shot, went straight to keeper Yapp Hung Fai in 53rd minute. Liston's shot in 65th minute, went straight to keeper Yapp Hung Fai. Brandon's Pass and Manvir made it 3-0 for India in the rainy YBK. Fine long run of Manvir from right flank and a fine minus and Ishan made a sublime finish to make the score 4-0 in favor of India.
FIRST HALF :
Anwar Ali scored for India in 56th Second from the early corner. Sahal Abdul Samad's shot in 26th minute deflected by the post. Jeakson's free kick, Sunil's fine touch and calm finish to put India ahead 2-0. This is 84th Goal of Sunil Chhetri.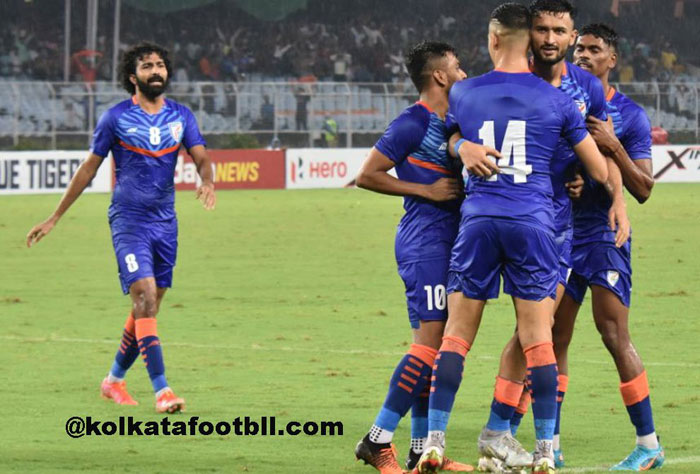 INDIA AND HONG KONG QUALIFIED FOR AFC ASIAN CUP 2023
14.6.22:(12.30 PM)
The calculations of Group D are over now. India and HongKong are now qualified for the AFC Asian Cup 2023 before their match at Kolkata today night. This is possible, after Philippines lost against Palestine by a margin of 0-4 in a Group B match. In fact if India or HongKong loses point in the final Group D match then these two teams will qualify for next round.
India are now occupying third position in Group D with 6 points after they won the first two matches against Cambodia(2-0) and Afghanistan(2-1). Hong Kong won the first two matches, are leading the table with a better goal difference than India. Today, India and Hong Kong will fight for the top spot in Group D.
Earlier, India qualified for the AFC Asian Cup in the year 1964. India finished as runners up team out of 4 teams participated in the tournament.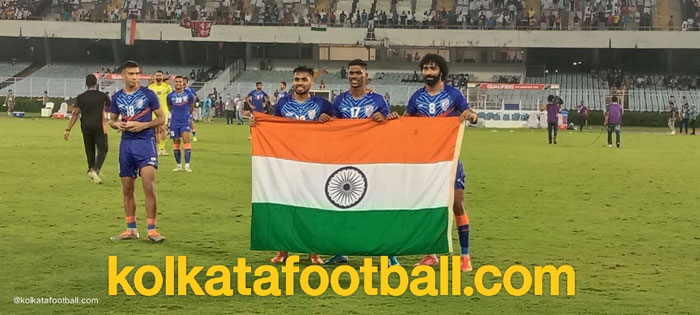 In 1980 India qualified for the Tournament but could qualify from the Group stages.
THE TEAMS QUALIFY FOR ASIAN CUP ARE PALESTINE< UZBEKISTAN, THAILAND, INDIA, HONGKONG, KYRGYZSTAN, TAJIKISTAN.
WHO WILL BE THE GROUP LEADERS: INDIA OR HONG KONG
13.6.22:
India and HongKong are locked at 6 points each after two matches. But HongKong is leading the Group D with a better goal difference than India.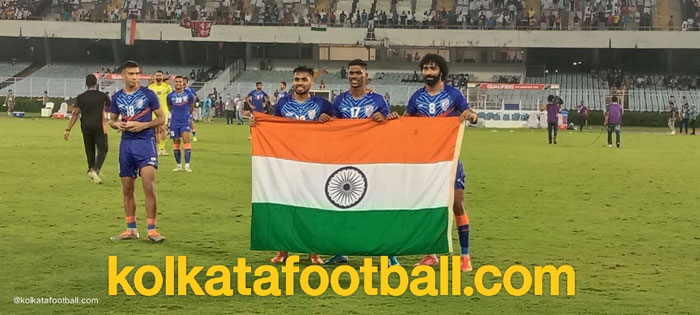 HOW INDIA WILL QUALIFY IN THE FINAL ROUND
If India win against HongKong they will be the Group champions. If India lost or if the match was tied then the calculation will be different. The group winners are assured for a place in the final round, while the second placed finishers will have to wait to see if they are within the best five runner-up among the six Groups. India will qualify if Philippines or Indonesia loses or drew their match.
In AFC Asian Cup 2023 13 teams confirmed their participation. India is fighting for the remaining 11 teams along with other 23 countries.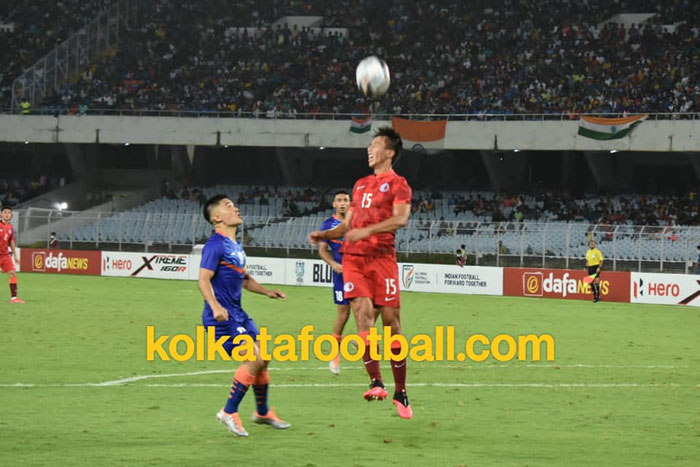 HEAD TO HEAD
TOTAL MATCHES:
15
INDIA WON:
7
HONGKONG WON :
4
DRAWN :
4
COACHES VIEW IN THE PRE MATCH PRESS CONFERENCE
IGOR STIMAC: INDIA
"Of course this game is of the same importance as the previous two. There is less pressure but not less hunger or motivation for us to go out to start from the very first minute as we started against Afghanistan and do what we can to win this game." As you can see they are a well-organised side, a disciplined side with enough quality to defend and attack but we studied them, all their main strengths and weaknesses and we know what we need to do to win this game. "
"We need to compliment Hong Kong for what they have shown in the first two games, and deservedly they are leading the group at the moment because they had a better score in their game against Cambodia than us," said Stimac."
JORN ANDERSEN: HONGKONG
"For us the situation is really positive," said the former DPR Korea coach. "We didn't expect it when we were coming here, but we have already made two good games and taken six points. "The situation is really good, but actually both teams are still not qualified for the Finals. We both need one point and it is good that we can have a final and I hope many spectators can come to the stadium."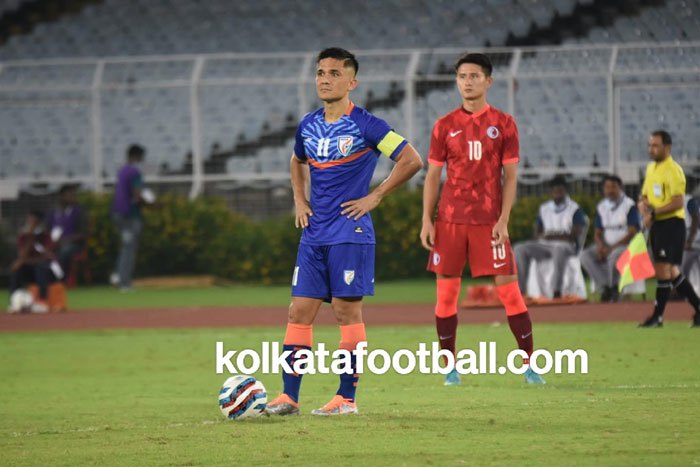 "It's been a long time that we haven't played with so many spectators so it will be good for my team. It will be good motivation. "Of course it's a big advantage for India to play at home, in front of maybe 40 or 50,000 spectators and that's something we have to solve. But we have experienced players, we have a good collective team and I think we can solve this problem."
STAT- LALTU CHAKRABORTY
: OUT OF 15 MATCHES WHERE 8 MATCHES HELD FOR MARDEKA CUP WHERE INDIA WON FOR 4 TIMES, HONG KONG WON 1 TIME AND REST 3 MATCHES DREW. IN 1964 AFC ASIAN CUP QUALIFIER MATCH HELD ON 02.06.1964 INDIA BEAT HONG KONG 3-1, WHERE THE SCORER WAS CHUNI GOSWAMI, SUKUMAR SAMAJPATI AND INDER SINGH.
MATCH - 5
14.06.2022 : AFGHANISTAN
2-2
CAMBODIA (FT)
AFG:
Faysal Shayesteh 16', Mustafa Zazai 35'
CAM:
Thiva Brak 37', Keo Sokpheng 80'
AFG:
Ahmad Hellal, David Najem, Haroon Amiri, Masih Saighani, Noor Husin, Mustafa Azadzoy, Faysal Shayesteh, Ahmad Omran, Zelfagar Nazary, Mustafa Zazai, Fareed Sadat
CAM:
Keo Soksela, Ken Chansopheak, Taing Bunchhai, Tes Sambath, Chou Sinti, Orn Chanthea, Choun Chanchav, Sin Sovannmakara, Long Phearath, Brak Thiva
MATCH- 4
11.06.2022 : INDIA
2-1
AFGHANISTAN (FT)
IND:
SUNIL CHETRI (85'), SAHAL ABDUL SAMAD (90+1')
AFG:
ZUBAYR AMRI (87')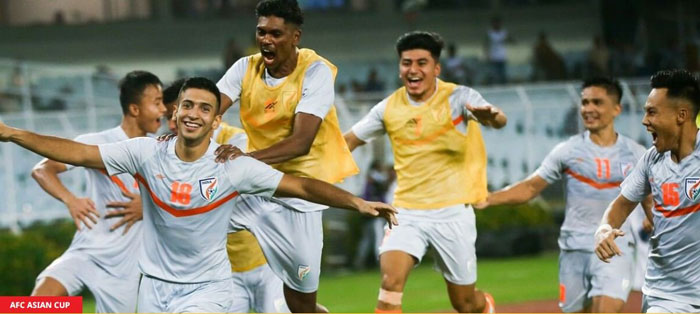 IND:
Gurpreet Singh Sandhu, Roshan Singh, Sandesh Jhingan, Anwar Ali, Akash Mishra, Jeakson Singh(Glan Martin), Suresh Singh, Liston Colaco(Brandon Fernandez), Manvir Singh (Udanta singh), Sunil Chetri(Sahal Abdul Samad), Ashique Kuruniyan.
AFG:
Faisal Hamidi, David Najem, Haroon Amiri, Milad Itezar, Md Sharif, Noor Husin, Farshad Noor, Mustafa Azadzoy, Faisal Shayesteh, Ahmed Omran, Qamaruddin Maziar.
REFEREE:
RAZLAN JOFFRI ALI (MALAYASIA)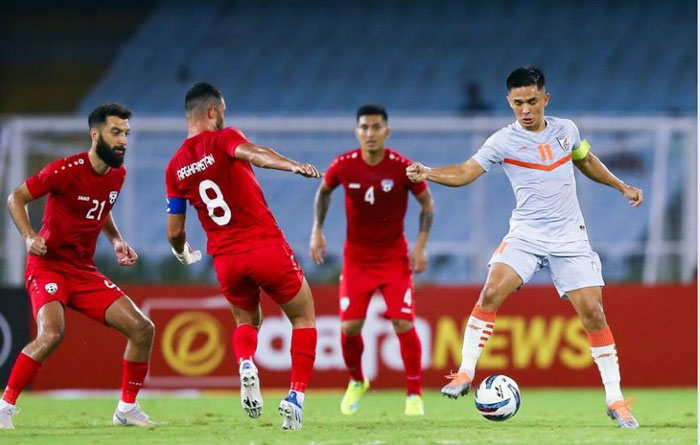 SECOND HALF:
India finally won by a margin of 2-1 and earn full points against Afghanistan. The second session was comptetive as Afghanistan came back strongly in the match. Afghanistan created some good moves inside the Indian half keeping the central defenders Sandesh, Anwar and Akash under pressure.
The easiest chance of the match was wasted by Sunil Chetri when he heads wide of a pass from Manvir with only the goalkeeper of Afghanistan to beat. Brandon Fernandez wasted another easy chance of a cross pass from Ashique.
Sunil Chetri put India in the lead at the 85th minute when he places a free kick from just outside the 18 yards and scored his 83rd international goal. Zubayr Amiri equalised shorty for Afhanistan with a powerful header.
Zuvayr Amiri could have score earlier but his shot was partially saved by Gurpreet and finally cleared by Sandesh.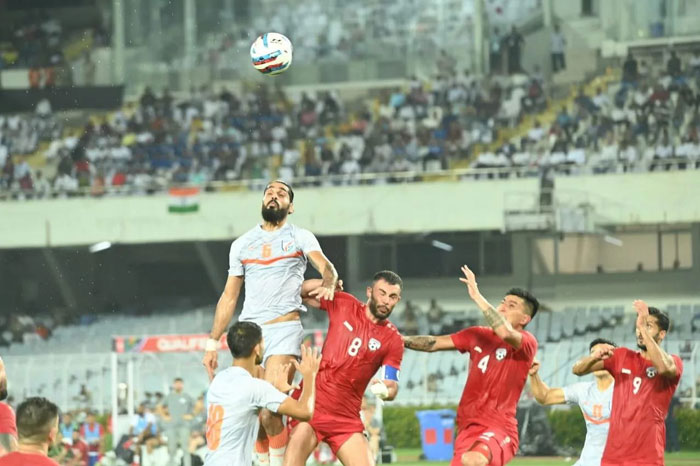 Sahal Abdul Samad scored the winning goal for India at the added time of the match of a forward pass from Ashique Kuruniyan .
India and HongKong are now on 6 points from two matches as the last match will decide who will be the Group D champions.
FIRST HALF:
The first session ended as neither of the teams could score. This is an important match for India as they have to win against Afghanistan in order to stay as a contender for the Group leader. India started the match in sheer pace, had a number of positive moves created tremendous pressure in Aghanistan defense leading by Jeakson Singh, Suresh and Liston Colaco from the left. Inspite of a number of positive moves, India failed to score in the first session.The central defenders of Afghanistan did a good job to restrict India in the danger zone.
Afganistan on the other contray had some counter moves but failed to create any pressure in Indian defense.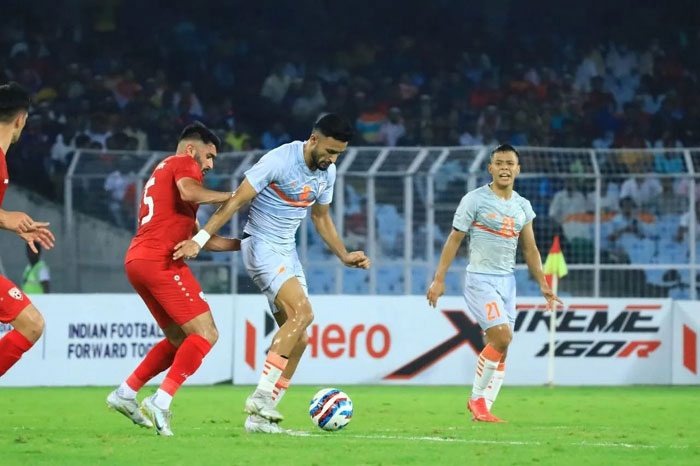 HIGHEST MARGIN WIN
29/08/59:
INDIA
5-2
AFGHANISTAN
SCORER:
P K Banerejee, Chuni Goswami, Kempiah, Rahamatulla, Moloy Lahiri.
HEAD TO HEAD: INDIA VS AFGHANISTAN
TOTAL MATCHES: 17
INDIA WON: 11
AFGHANISTAN WON: 2
DRAW: 4
GOAL (INDIA) : 32
AFGHANISTAN: 9
COACHES REACTION AHEAD OF THE SECOND MATCH
IGOR STIMAC: INDIA
"We need to stay disciplined, concentrated and be composed on the ball."
"Afghanistan players are physically very strong. Positioning will be the key, and good reading of the game will be crucial. We need to keep tight lines, and win more duels. We need to be clever. The last time we played Afghanistan in Doha we were better than them in each segment. Now we are in better shape than what we were last time around. I am very confident about the situation we are in, and my expectations are that we will win this game."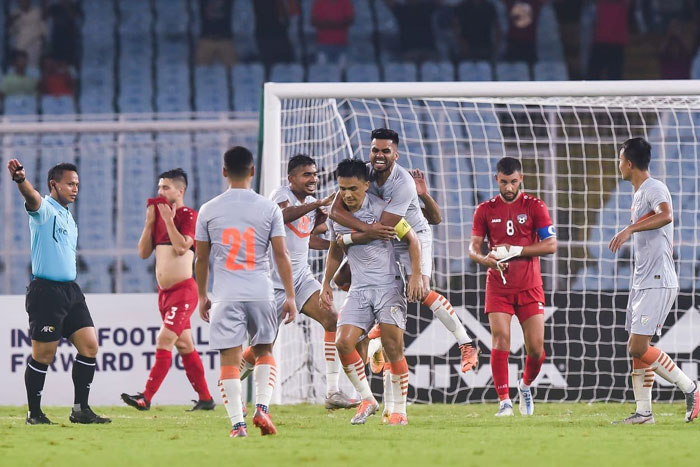 "The victory against Cambodia helped in regards to the confidence in the dressing room. We have started with the best possible way winning the first game. But the three points mean nothing if we aren't able to get three points against Afghanistan."
ANOUSH DASTGIR: AFGHANISTAN
"It's a do or die for us tomorrow against India."
"We need to learn from our mistakes. We have watched India and are preparing for them. Both teams know each other well. We expect a great game," Anoush Dastgir commented. "Indian Football has been doing well in the last few years. The league structure here in India is very good."
"We will go out there and play to our strengths and hope for a good result. We are looking to win the game, and then we will focus on all calculations. We respect India as an opponent."
MATCH- 3
11.06.2022 : HONGKONG
3-0
CAMBODIA (FT)
HKG:
MAT ORR (18'), SUNG MING HIM (21'), CHAN SIU KWAN (63')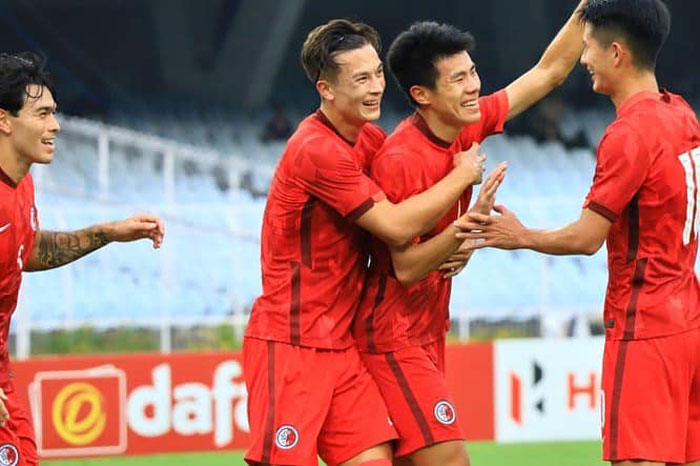 HKG:
Yapp Fai, Law Chung,Wai Lim, Sean Keung, Huang Yang, Sung Ming Him, Matt Orr, Wong Wai, Wong Ho, Yue Nam, Ju Yingzhi.
CAM:
Hul Kimhuy, Ken Chansopheak, Soeuy Visal, Orn Chanpolin, Sieng Chanthea, Sos Suhana, In Sodavid, Choun Chanchav, Ty Sa, Kok Boris, Bin Chanthacheary.
REFEREE:
YOUSIF SAEED HASAN (IRAQ)
MATCH-2
08.06.2022 : INDIA
2-0
CAMBODIA (FT)
IND:
SUNIL CHHETRI 12'(Pen), 58'
IND:
Gurpreet Singh Sandhu, Roshan Singh, Sandesh Jhingan, Anwar Ali, Akash Mishra, Anirudh Thapa, Brandon Fernandez, Liston Colaco, Suresh Singh, Sunil Chhetri, Manvir Singh.
CAM:
Hul Kimkuy, Bin Chantacheary, Kok Boris, Choun Chanchav, Soeuy Visal, Ken Chansopheak, Ora Chanpolin, Sos Suhana, In Sodavid, Keo Sokpheng, Sieng Chanthea.
REFEREE:
BARAA KAMAL ABU (PALESTINE)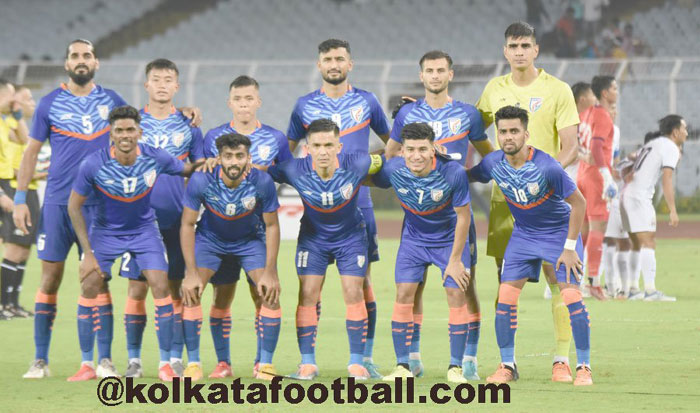 SECOND HALF:
A brace by Sunil Chhetri in the either half helped India to register a comfortable win in the first match of AFC Cup qualifiers against Cambodia at Kolkata.
The home team started the second session with a positive mood created pressure in the Cambodian defense. India had a number of good chances in the second half. Sunil's header in 48th minute went off target. Liston tried a long ranger after Roshan's shot deflected for the corner, but it was way over.
Sunil's header from Brandon's cross, finds the net at the 60th minute of the match.
Roshan's shot from the right flank, went over the bar. Glan tries from a distance, but it sails over the bar in the 77th minute. Sahal tries another shot just outside the box, but again it's off target. Ashique with a brilliant pace nearly increasing the margin, but a fine save by the keeper denied him just a couple of minutes before the end of regulation time. Glan's shot inside the box in injury time blocked and cleared.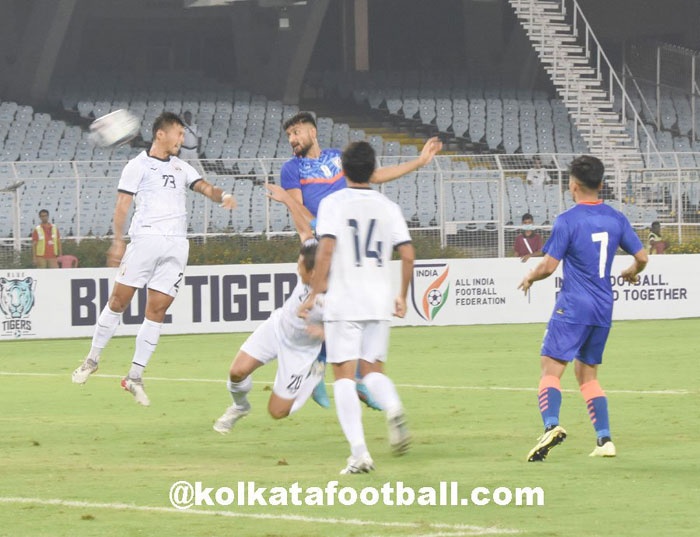 FIRST HALF:
At the end of the first session India are leading by a solitary goal. The home team dominated the first session had a number of positive attacks utilising the left flank. India could have increased the lead if Sunil Chetri convert some easy chances. A good triangular attack by Liston, Akash and Brandon created pressure in the Combodian central defense.
India scored the first goal at the 12th minute of the match when Sunil Chetri converted a penalty after on rushing Liston Colaco was brought down inside the 18 yards by the central defender Boris. India was unlucky when a long ranger from Akash Mishra was cleared by the Cambodian goalkeeper at the flag end of the first session.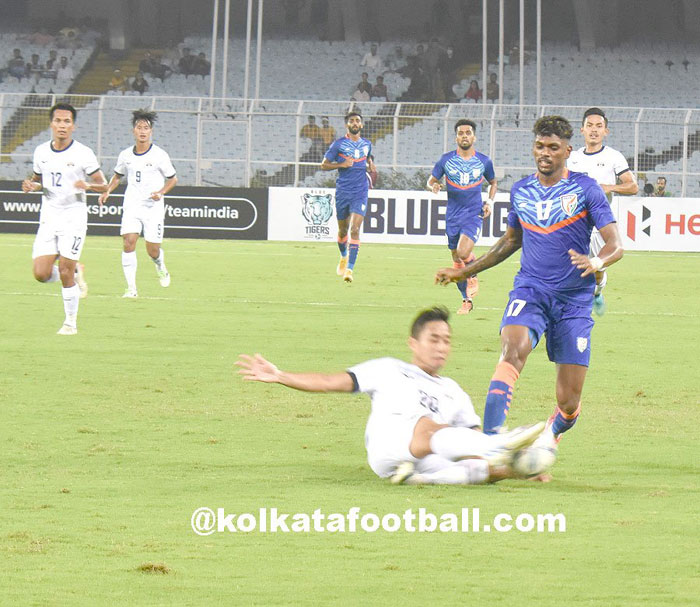 BREAKING NEWS :
The Football Federation of Cambodia threatened to withdrawn their name from the AFC Cup Qualifiers hours before their match against India. It is reported that the national flag of Cambodia was not upto the exact specification in colour and design. The Cambodian Football Federation logged a complain to AFC regarding the issue.
In response AFC issued a regret letter to Football Federation of Cambodia and intimated that graphics of national flags will be used for the AFC Cup Qualifier matches at Kolkata.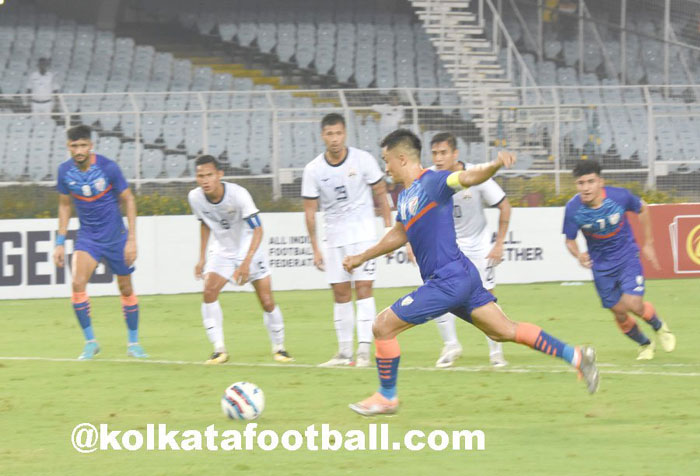 INDIA - CAMBODIA: RESULTS OF PREVIOUS MATCHES
02.09.1964
INDIA 4-0 CAMBODIA (MARDEKA TROPHY)
SCORER:
Chuni Goswami, Deerek D Souza(2), Inder Singh.
18.11.1967
INDIA 1-3 CAMBODIA (AFC ASIAN CUP, WESTERN ZONE II, QUALIFIER)
SCORER:
P Kanan
17.08.2007
INDIA 6-0 CAMBODIA (NEHRU CUP)
SCORER:
N.P.Pradeep, Bhaichung Bhutia, Steven Dias(2), Sunil Chhetri(2).
22.03.2017
INDIA 3-2 CAMBODIA (FRIENDLY)
SCORER:
Sunil Chhetri, Jeje Lalpekluia, Sandesh Jhinghan.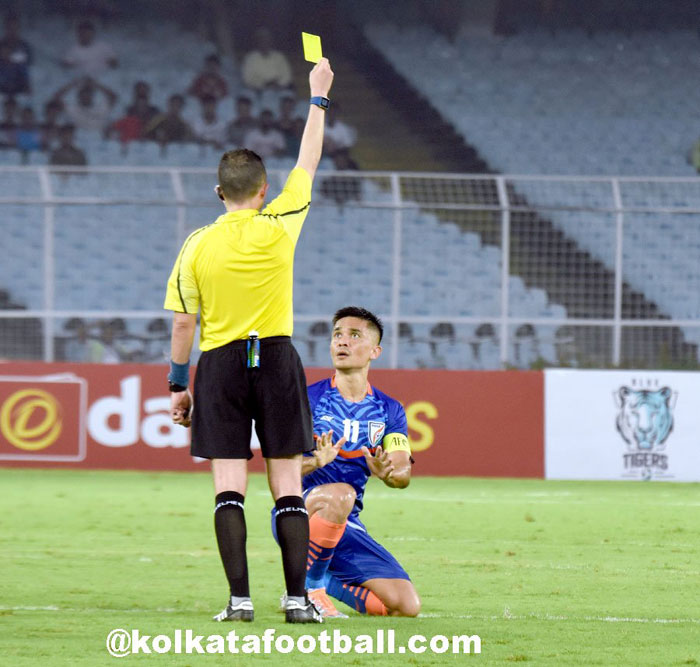 WHAT THE COACHES SAID IN PRE MATCH PRESS CONFERENCE
IGOR STIMAC: INDIA
"We are expecting the fans to come in numbers, to support the national team in the best way possible. Our intent is to press from the start, play at high pressure, and at a high intensity. We need to control the game, and I have to say we are ready for that. We have nothing to hide. For me as a coach, it is not important who scores. But it's important that we score. We need to accept that our recent oppositions – Bahrain, Belarus, and Jordan – were technically better than us. But we had our chances, and failed to capitalise on them," Igor quipped. "We have young players who are feeling the pressure of being in the National team. We need to push these young players earlier in their career, and need to be patient."
"I'm not worried as we are now ready to battle it out for 90 minutes. There is more strength in our legs and more oxygen in our brains. We have been training to our strengths, and it has helped us a lot."
"I respect every opponent. There is no reason to underestimate Cambodia. They have come here with the same desire. We need to be hungry for this game, and we are. But today's football doesn't bring in any easy games."
HIROSE RYU: CAMBODIA
"It does not matter where we are playing, and we will be giving our best. Our team is "motivated to play away from home.We are in a strong group with Hong Kong, India and Afghanistan," he said. "We think we had good preparations in Cambodia so hopefully we will have a good result. India's two forwards are dangerous for us and we will have to fight against them. So we will see tomorrow."
MATCH-1
08.06.2022 : HONGKONG
2-1
AFGHANISTAN (FT)
HNG:
WONG WAI (22'), MATT ORR (25')
AFG:
FARSHAD NOOR(81')
HNG:
Zhengpeng, Law Chuin, Fung Wa, Wong Ho, Sean Ka, Huang Yuang, Wong Wai, Tze Nam, Zu Yingzhi, Ju Yingzhi, Mat Orr.
AFG:
Oyays Azizi, David Nazem, Abdul Najim, Sharif Md, Zelfagar Narzary, Farshad Noor, Noor Husin, Ahmed Omran. Moshtaq Ahmadi, Maziar Kouhyar, Omid Popalzay.
REFEREE
: AMHED FAISAL ALALI (Jordan)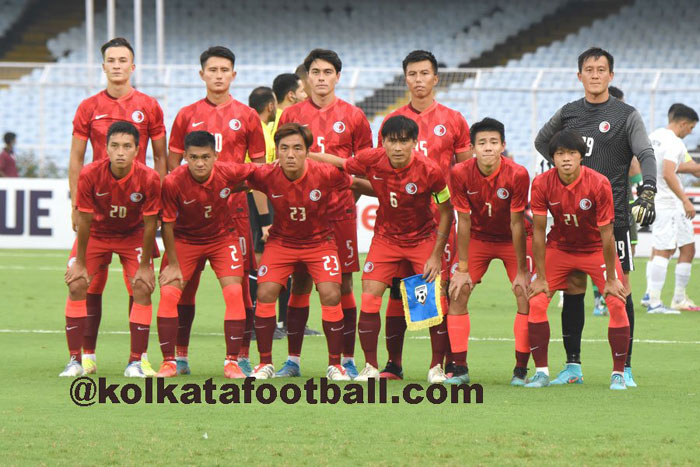 DEMAND FOR TICKETS ARE HIGH - 6.6.22:
: India will play against Cambodia in a AFC Cup qualifying match at Kolkata on 8th June at Kolkata. The last match India played at Kolkata was against Bangladesh in FIFA World Cup Qatar 2022 Qualifiers in October 2019. The match ended in a 1-1 draw.
The Indian footballers urged the spectators to be present at Yubabharati Kriangan on Wednesday evening and cheer for the home team. The All India Football Federation arrange for 50,000 free tickets for the spectators for the first match days of Group D. There is a huge demand for a match ticket as the online tickets for the first match day were exhausted within a very short time.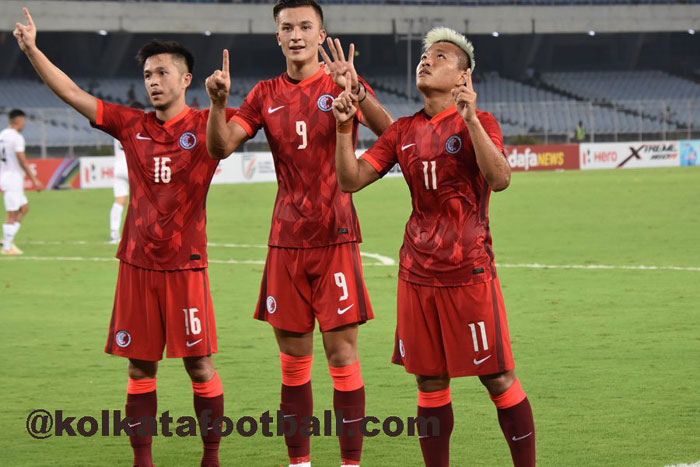 Depending on the situation AIFF is likely to increase the number of tickets on the remaining match days.