INDIAN FOOTBALL TRANSFER NEWS 2019-20
JERRY SIGNED FOR DELHI DYNAMOS
23.4.19:
Midfielder Jerry Mawihmingthanga signed for Delhi Dynamos. Jerry played for Jamshedpur FC last season.
"I am really happy to join the club. I have had fantastic seasons with my former coaches and clubs, and want to thank them for it. But now under coach Josep Gombau, I would like to explore my potential even more."-Jerry commented after joining Delhi Dynamos
SANDESH RENEWS CONTRACT
20.4.19:
Indian International Defender Sandesh Jhingan extends to stay at Kerala Blasters FC for at least three more seasons.
Sandesh played for Kerala Blasters from the beginning of Indian Super League and will the continue his journey once again.
SAMAD RENEWS CONTRACT, SALAM DEPARTS
20.4.19:
After a prolonged discussion Samad Ali Mullick finally decided to extend his tie up with East Bengal. Samad proved to be as one of the utility footballer under Spanish coach Alexandro Menendez in the recently concluded season. In a press release today East Bengal announced the contract with the wing back Samad Ali Mullick which will last for three years.
After Jonny Acosta, Salam Ranjan Singh the central defender of East Bengal will going to join the ISL franchisee ATK for the forth coming season.
East Bengal are in discussion with the goal keeper of Real Kashmir Bilal Khan. According to the sources the discussion are at the final Stage.
LALRIMDIKA RALTE EXTENDED CONTRACT WITH RED AND GOLD
17.4.19:
East Bengal extend contract with the central midfielder Lalrindika Ralte for two season. This was officially intimated in a press release today. Dika was the captain of East Bengal in the recently concluded season. Dika joined East Bengal in the year 2012 from Churchill Brothers and played till 2017. He played for ISL franchisee Mumbai City FC, ATK as a loan footballer in 2015, 2016 and 2017 respectively. He joined North East United in 2017.
Dika proved himself as a utility footballer during his long relation with East Bengal.
STANLEY EXTENDED CONTRACT WITH AIZAWL FC
16.4.19:
Aizawl FC Coach Stanley Rozario Henry extends his stay at Aizawl FC for two more seasons till 2021.
Ex-East Bengal, Mohun Bagan Coach Stanley joined Aizawl FC in the last season. Aizawl FC finished 8th position in the I-League.
CHENNAI CITY FC SIGNED JAPANESE MIDFIELDER KATSUMI YUSA
15.4.19:
The I League champions Chennai City FC signed the Japanese midfielder Katsumi Yusa for the year 2019-20. Katsumi joined the I League champions as a footballer of Asian quota. Katsumi played for Neroca FC in the recently concluded season.
It was a rumor that the Japanese is likely to join Mohun Bagan. But finally he opt to signed in favour of the I League champions. Katsumi started his mission for ONGC in India. Later he played for Mohun Bagan and East Bengal before he joined Neroca FC .
EAST BENGAL RENEWS CONTRACT WITH BROJA GOMES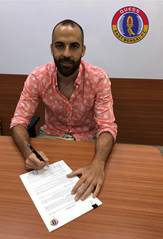 12.4.19
East Bengal renews contract with the Spanish central defender Broja Gomes Perez. In a press release East Bengal stated that the new contract will last for next two years. Broja joined Red and Gold in the year 2018 and performed quite successfully in the recently concluded season.
East Bengal are in discussion with the wing back of FC Pune City Ausotosh Mehta. While ISL franchisee Chenniyian FC had a series of discussion with Lalram Chulova, the wing back of East Bengal.
AFTER MINERVA PUNJAB FC, NEROCA FC IS GOING TO SHUT DOWN ?
08.04.2019:
Neroca FC today shared their disgrace regarding ongoing problems of I-League clubs. They even wanted to shut down the club if I-League is treated as the second division league.
Neroca FC promoted to I-League in 2017 and finished as a runners up in their first season. This year they finished in 6th position.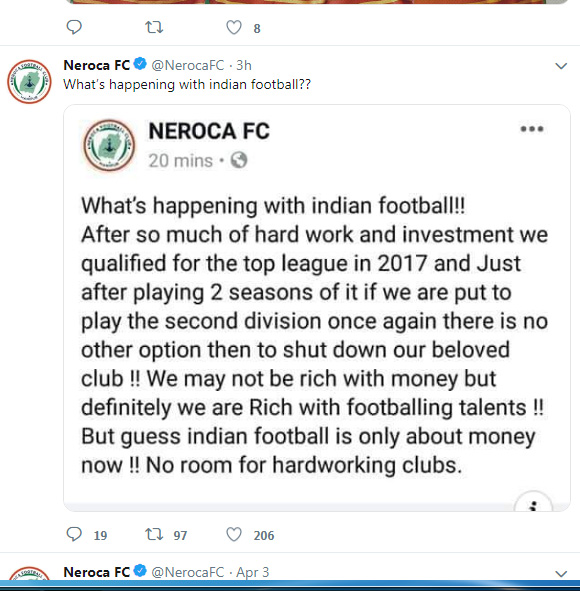 MINERVA PUNJAB FC TO SHUT DOWN ? BAJAJ TWEETS
05.04.2019:
The owner of Minerva Punjab FC Ranjit Bajaj twitted in his account, "'with a heavy heart' that Minerva Punjab FC is going to shut down."
Minerva Punjab FC booked Kalinga Stadium ,Bhubaneswar for their AFC Cup matches. But after the start of AFC Cup, Odisha FA conveyed that due to U-17 Women's World Cup, ground need to renovate so the stadium will not be available after Super Cup. Minerva played against Chennyian FC in their opening match of AFC Cup at Ahmadabad. So, the chance of venew at this stage may lead to a punishable offense in AFC. In fact AFC approved Kalinga stadium as the home venew for Minerva Punjab two months back.
With a very heavy heart 💔 today I have decided that @minervapunjabfc will have to do what so many others have done/CHAMPIONS of @ILeagueOfficial for 2018-19 for SENIORS/Under 13/ under 15 /under 18 - SIX TITLES(4 years) 60 plus boys to various Indian teams is going to shut😰

— Ranjit Bajaj (@THE_RanjitBajaj) April 5, 2019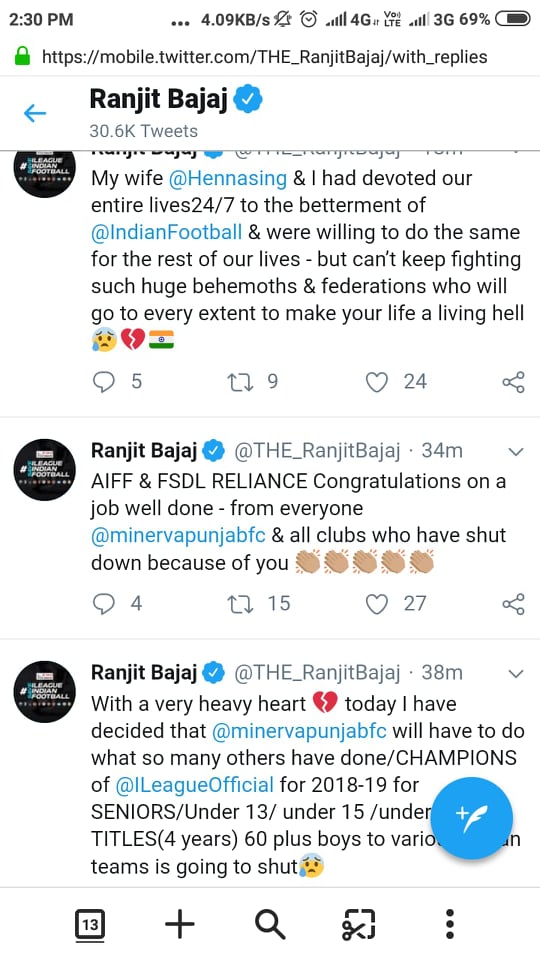 Minerva Punjab FC were champions of 2017-18 I-League as well as I League champions of Under 13, Under 15 and Under 18 category. Minerva is a club with more than 60 footballers playing in different age groups in Indian football.
BRANDON RENEWS CONTRACT WITH EAST BENGAL
04.04.2019:
East Bengal announce the renewal of contract with Brandon Vanlalremdika for the next two seasons. In a press release today Red and Gold announce the renewal of agreement with the Mizo footballer. East Bengal are in discussion with Samad Ali Mullick, Lalram Chullova and Laldanmawia Raltey for the coming season.
Meanwhile, the signing of Jobby Justin in ATK lead to a controversy. Jobby's "token" are with East Bengal while he signed for ATK. According to the rule of IFA, token is required for a footballer to sign in a club. There is no such rule for a footballer to sign in a ISL franchisee.
BRANDON RENEWS CONTRACT WITH EAST BENGAL
04.04.2019:
AIZAWL FC
:Liberian defender, Aizawl FC skipper Alfred Jaryan extended his stay for one more season.
JOBBY JOINS ATK
03.04.19 :
PRESS RELEASE ATK : East Bengal striker Jobby Justin signed a three year pre contract with the ISL franchisee ATK, which will commencing from June 2019. This was stated in a ATK press release today. ATK also retains the services of Manual Lanzaroute, Edu Gracia and John Johnson.
Jobby was in the radar of ATK since long. Recently, after the board meeting with Quess East Bengal officials had a long discussion with Jobby. East Bengal claimed the meeting was positive, but ATK wins the race finally when they signed the most successful Indian striker in the recent times.
03.04.2019:
AIZAWL FC
:Ugandan defender, Juuko Richard Kassaga extended his stay with Aizawl FC for one more season.
03.04.2019:
ATK
: Edu Garcia, John Johnson and ManuelLanzarote will stay with ATK on for one more season
SAM ALLARDYCE LIKELY TO REPLACE CONSTANTINE
30.03.2019
: The former Premier League and England national team manager Sam Allardyce has reportedly shown his interest to Stephen Constantine's successor as India coach. AIFF are in search of a new coach who will took charge of the senior Indian National team.
TULUNGA IN A NEW ROLE
30.03.2019
: Mizoram Footballer, Shylo Malsawmtluanga (Mama) is the new head coach of Mizoram Premier League side Chanmari FC. Shylo was a successful midfielder played for East Bengal, Mohun Bagan and United Sports club in KOlkata.
KOUASSI EXTENDS CONTRACT WITH MD SPORTING
30.03.2019
:Mohammedan Sporting Club extends the contract of 30 year old Ivorian striker Desmos Arthur Kouassi until the end of Calcutta Football League 2019-20 season.
"I am very happy to be extending my contract with the club. We are building a strong team and I am excited to be part of the future of Mohammedan Sporting Club. I have a lot more to offer and I will make sure I contribute to the cause," the Ivorian said after extending the deal.
29.03.2019
:Minerva Punjab FC signed Nigerian Central Defender Kareem Omolaja on loan from Aizawl FC ahead of their AFC Cup clash.
29.03.2019
: FC Pune City extends the contract of their head Coach Phil Brown for two more seasons.
27.03.2019
: Brazilian Midfielder Emerson Moura has extended his contract for one more year with Jamshedpur FC.
27.03.2019
: Shillong Lajong Football Club announced the signing of Mr Jose Carlos Rodriguez Hevia as the Technical Director, Coaching and Youth Development.
26.03.2019
:Samuel Lalmuanpuia have joined Minerva Punjab FC on loan from Shillong Lajong FC for the rest of the season.