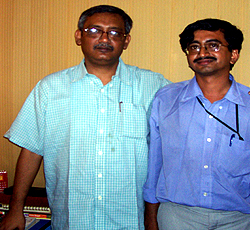 He is the man behind the curtain who made 100 million Indians' dream come true. He is the man who has been able to get the consent of Football Legend Diego Armando Maradona to visit the Football Capital of India. He is Mr. Samik Lahiri, the hon'ble M.P from Diamond Harbour Constituency of West Bengal.

Amid his very tight schedule Mr. Lahiri gave our representative Subhransu Roy an Exclusive interview regarding the forthcoming visit of soccer legend MARADONA to Kolkata. Here is the abstract of that interview.

How could you make this dream of 100 millions Indians' a reality? What is exact plan behind this visit?

Samik Lahiri : Actually for last three years we were working very hard on a project called "INDIAN FOOTBALL SCHOOL". I thought that if our country could produce good Doctors, Scientists , Academicians, IT professionals then why not quality football players? As an avid football fan this question arose in my mind since long. Hence, we started a research to find the reasons behind our failure. For our research purpose we went to South Africa where football is well structured, went to Europe where football is well planned and also went to South America where football is a part of their daily life. Finally we reached the conclusion to start the project "INDIAN FOOTBALL SCHOOL in Mahestola, Kolkata.

Under this project we will sponsor 100 Football Clinics in West Bengal, Jharkhand and North Eastern States of India within next three years,where initially we will admit 1500 Kids of Under 11 age group.We will appoint about 20 quality Indian coaches and other Technical Staff in our clinics who will be given special training with help of famous Argentinean Football Nursery.By 2011 IFS residential Academy will start with well equipped World class infrastructure with modern Football felicities.

Out of these 1500 students, when they reach at the age of 14, we will select only the best 40 Kids for our future residential Football Academy in Mahestala. We will provide them 3 years full scientific modern training under direct Argentinean coaching instruction. (in this concern we are also negotiating with famous Argentinean Football Club RIVER PLATE F.C).The boys of the Academy will train through exposure tours to Europe,South Ameria or Africa every year to gain more experience of modern football. At the age of 17 they will be free to play pro football not only in India but also in the South American Leagues. It is highly possible that we can put them in 3rd/4th Division League of Latin American club Football where modern football really exists.

As an answer to quality, which once arose in my mind, I think by this process, if everything goes according to our plan, in 2022 we will be able to produce more than 100 of standard footballers with international experience. These talented footballers will help Indian Soccer immensely. After all this planning, we were searching for a personality who can really shake the whole nation as well as can launch our project. Whom you can think is more suitable for the job other than MARADONA?

So we started looking for opportunities to present our plan to MARADONA. We were able to contact him through direct help of his estranged wife Claudia and Sevastian the CEO of MARADONA's personal Management Group 'PASSION' . Following e-mail exchanges routed through Claudia, Maradona agreed to meet us at his residence in Buenos Airs.I led a two-member team to meet him on 1st Nov and had been able to extract his consent for coming to Kolkata in the first week of December this year.

I personally feel that this visit of MARADONA will create a great impact to boost Indian Football in future also expecting a huge corporate participation for the mega events.